Nay-La-Chee`s Cool n Rude Hex *Hexa*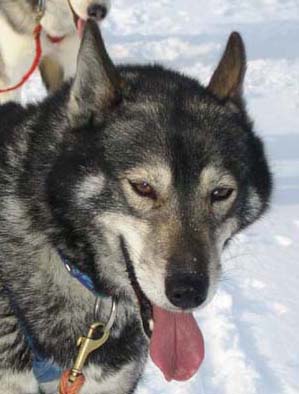 Agouti brown eyed female born 01. 53 cm 17kg

Very softtempered, pleasent (and smart) girl who loves people and attention!!!
A very spescial personality one have to be found of. Obidient and non-confrontational, crazy in team like mother Noia.
She has also figured out the art of climbing all kennelfences and must be kept under roof and under constant watch when out in play ground. What she primarely wants is to go inside my house,but if door is not open she go elsewhere.
She got out once and killed 6 hens in the neigbourhood (of course prized very high, and whole ordeal costed 5000 kr...) but thats the only time my dogs did damage in 33 years...
Hexa is an eager leaddog and are used in front on training, lack some speed for racing but are endurant. She has a very fluid trot. Had her best racingseason this year, 08/09 strange enough. I suspect she had some pain in neck/shoulders from all the climbing/landing she did in younger years.


Racing
Vikerfjell 06 35km 6 dog
Rørosløpet 06 2 x 35km 8dog pb
Drevsjøløpet 100km 8-dog
Shamdraget 08 2 x 45 km 6 dog

08/09Vikerfjell 70km 8 dog
Hallingen 80km 8 dog
NSHK 50 + 30km 8-dog

Show
1 JK 1JKK NSHK 02 Judge Sellevik

Eyes
Eyechequed/gonioscoped march 03 by Kristin Lange. Has a bit narrow angles (dysplastic ligaments)
Rest is fine
Offspring:
Hexov litter 6 pups with Sujozov av Vargevass april 05
Siberian River litter 3 pups with NLC Troyka River 06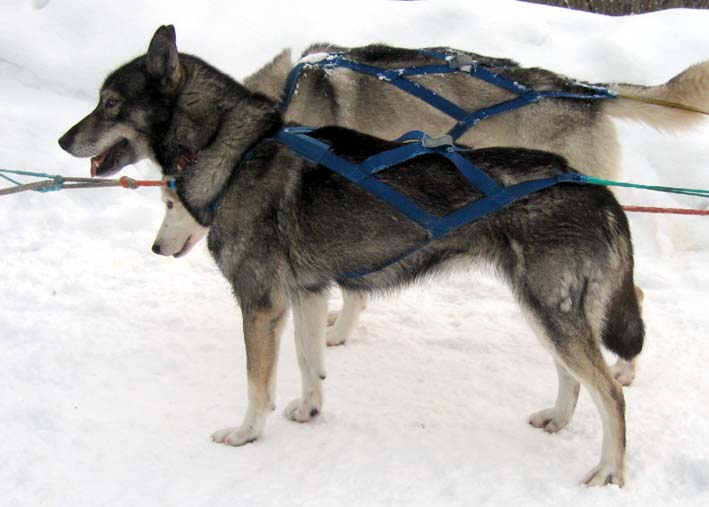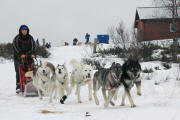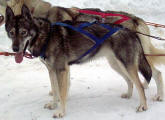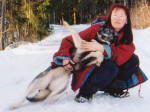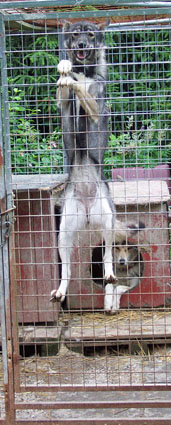 Batwoman in her youth
Parents
GrandParents
G-GrandParents
G-G-GParents
Northomes Rude-e At Axia
(Sire)
Northomes Tough Guy
Northomes Ed
Northomes Yankee
Northomes Whitby
Northomes Spot
Lokibodens Mr Snuffalupagus
Northomes Mimi Tchida
Kodiaks Jewel 2
Kodiaks Valois
Kodiaks Iroquois
Verhelynns Ruby Of Kodiak
Verhelynns Ruby Of Kodiak
Khan Of Bru
Lena Of Vixen

Nuch

Nay-la-chee`s Cool Running Kenoia
(Dam)
S(polar)ch Unisaks Jet Bandit
Igloo Pak`s Snow Bandit
Igloo Pak`s Clyde
Igloo Pak`s Ann
Snowtrails Linda
Snowtrails Frosty
Snowtrails Annie
Avatac`s Brave Ulveline
Vargteams Varg
Speedos El Zordo
Tatra
Vargteams Delta
Nord Av Seppalaska
Sandra
Coefficient of Inbreeding of Valper Rude-e/ Kenoia is 0%