Kennelnews
5/12 My very spescial dog friend Noia ( Nuch Nay-La-Chee`s Cool Running Kenoia), the *queen* of my kennel, left us today in her 15. year. Time was right, she did not seem to have much pleasure out of life anymore . Luckily , with help of Hanne, she was able to pass over sleeping in the couch like normally, not noticing anything unusual. RIP Noia, you will be missed! It will be a while before I stop looking for that familiar face around the corner...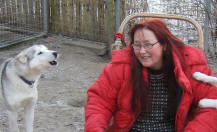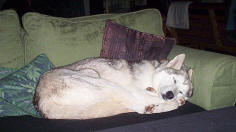 ---
23/11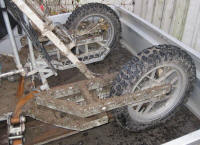 November is on with its dark, wet and muddy days.At least the ice melted again so its possible to train with the cart.. Last season we were on sled 1. desember, so there is still hope.
Been a while since update here, I have been busy with a new website for Snørokk. Visit it here!

We have entered a couple of rigraces, Few participants opposed to the years before
Results here and here
Rigrace team was Ravn, Graabein, Nayak, Tesslin, Tusse, Dingo, River and Sikpok

A visit to chiropracthor G Wiik sorted out the problems of my 3 injuried dogs:
Skarv have had for a while (don`t know english terminology of these things) a locked pelvis. He is allreaddy much better after 2 treatments and will be completly well. Rough play(his spescialty) have probably caused it.
Jeni have had a injuried front leg which destroyed her racecareer for two season. She did not limp yet this year, but turned out her leg is very stiff compared to normal. She has a biceps tendenitis, the most common injury in front of sled dogs...Daily massage and stretching will most likely fix her. She is in training with a shoulderwarmer on, and we run slow in downhills)
The worst case is Dingo, my best yearling ever. He have the habit of doing high kangaroojumps at feeding time and in june he landed akward on one hind leg which left him screaming like a pig. But since he stopped limping quite fast I was relieved that it went ok. But as training got harder he stiffened up in this side. He has torne a muscle in his tibia according to Geir. This can cause scartissue and problems in his back that can affect him later.
So now he is out of training and gets massage every 2. day:( I really cross my fingers for him.

Tvilling and Tannik, 6,5 months had their first tries in harness, and as expected they worked good and behaved bad!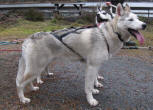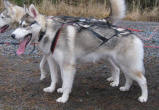 Noia turned 14 in october. She is mostly sleeping and looking quite old now.She is constantly shedding, so I had to take her inside yesterday despite all the hair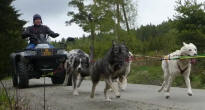 Above is JJ Yana, who lives with Ingvild in Folldal. She reports that Yana is looking promising in harness so far and is an easy grl to have around. But she she is a talker like many relatives...

A while ago we trained in Rakkestad together with Frank, Nina, Lars, Camilla (and Nora) Kjell and a glimps of Jan
I made a film that have been out for a while, but link here We finally got to try the big lavvo, the lavvostove and I tried my campingbed
and it all worked very well. And its NICE to have a lot of space inside! (we get mobbed or the 16 personlavvo)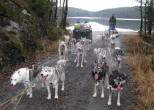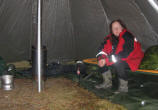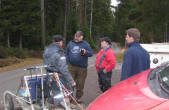 ---
Sept 09

Season of training is on, and less time to other things.

Main string
this year is so far Ravn, River, Kaylo, Sikpok, Tesslin, Yatho, Jeni, Dingo, Nayak, Tusse and Graabein. Skarv has an issue in a hind leg and has been off training for too long, Tamsin and Chasey are very small girls that will be *reserves* together with Gusken (dont know how his bronchitislike issue will develope, nothing so far yet)
We have been to
NSHKs fall camp,
that was a warm but soscial weekend. Ronny started late with 6 dogs, they were hot and slow.Vargas young owner Jarl Christoph was passenger on my team at the rigrace and I think he liked it!
Reults from rigrace here

There were 5 of the Tokpokgang at Åstjern, a fine bunch of rascals! There is an album from fall camp in Galllery page!
This week I visited Frøydis and Erland in Rakkestad and we had some hilltraining and passingtraining together with Anne, Kjell and Lars in heavy rain. But useful for my youngsters.
Anna and Vargtass visited, Nayak and Tusse liked him even if they bossed him a bit!
I have but out a couple of
cart training videos
on the Gallery page!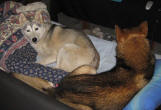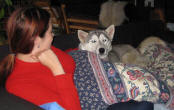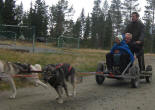 ---
14/9 09

T
his weekend Anne Kari and me went to the
Swedish Husky Club spescialty
in Bjursås with 7 dogs entered. Exept for Hexa in veteranclass, all were pups, juniors and youngsters that had not been to a show before. The rules let you choose to put dogs over 15mths either in youngster class or open class, thats why the 3 Vylas are in different ageclasses.
And this year I did not get the finger out to train them very much ahead unfortunatly. There were so many entries that there was an extra judge and two-day show. Tina Permo was judging pups and juniors, Karsten Grønås the rest. Weather was fine, company nice and I was very happy with the results for my dogs. I was too lazy to enter Breeders class (and did not think I had a homogenous group)
Results
:

NLC Tokpok Tannik: BIR puppy HP (entries 19)
NLC Tokpok Tvilling nr 2 female puppy HP (14 females)
NLC JJ Graabein 1JK nr 3 junior male CK (17)
NLC Vyla Dingo 2AK (thats all I needed for him)
NLC Vyla Nayak 1UK CK Nr 3 female winner class! (99 females entered)
NLC Vyla Tusse 1AK Reserve (nr 5) open female class (47)
NLC Cool n Rude Hex HP nr 2 veteran class (3)

I have put up an album
here
---


2/9 Summer is offiscially over and we have started fall training 19/8. Still a bit hot but we do not go many km yet.
Females are in heat all over the place and puppies are growing like weed. I have entered the pups, 1 veteran and 5 youngsters to swedish spescialtyshow, and now I have less then 2 weeks to learn them all to walk in a leash...Entry of 197 with Karsten Grønås judging I am sure we will have a nice weekend. Upcoming weekend its the yearly seminar in Hakadal to look forward too.

Yesterday I ordered a new race sled, a Skunksled from Snorre Næss, a year earlier than planned thanx to Ronny and the Tvillingsponsoring (and maybe Snorre needs a webpage too)We are looking forward to a new sled!

---
---
5/8 Here we are again! All the summerguest-dogs are gone (Max and Mico, Varga and Mira) and we are soon starting training season again. Noia have been very sick with pyometra but after strong medicine she is wagging her tail again. She does not have a single mammae-tumor but have recently got a lump at her side. Her apetite are low too, only thing she likes at the moment grilled chicken so we will see how long she hang around. She is 14 in october so one never knows.
Tannik and Tvilling

are doing fine. Tvilling have now offiscially been adopted by Rivers family in Italy,

the Anzelinis! Thanx a lot for sponsoring Tvilling guys! That`s why there will be some extra videos of Tvilling in the future:)
And here`s one from today! Forestwalk with Larka and Taiga

I have now put out my videos on YouTube

channelname NayLaChee maybe they load faster than here.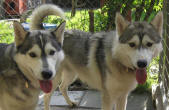 Max and Mico playing with Nayak- Mico- Max and Mico- Tvilling- Noia, enjoying a chewbone one strange night...
---
1/7 It has been tropical

heat

in Norway for many days, 30c in the shadow...tooo much if you ask me. Dogs are not very energetic either but still a bit energy to play in the younger ones. Taiga and Larka are here on summervaccation, Taiga (Vyla-litter) is such a sweet and playful girl she has a lot of fun with her 3 littermates.
Sikpok have great fun with the remaining 4 pups. She stopped giving them milk at 9 weeks, now its just play. She has been a very caring mother. She still licks them off when they have been in the bathtub.
Here is a video of fun in the sun



---
26/6 Puppies are leaving one by one, I am keeping myself Tvilling (female) and Tannik (male) from the Tokpok-litter. Build and typewise they are my best litter I think, time will tell how they end up in size and in harness...One never know...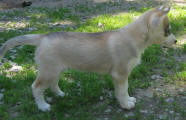 ---
15/6 Put out a film of Varga preparing for the big world- Puppies are starting to leave next week. I still did not decide who to keep!


---
14/6
Puppies are allready 7 weeks tomrrow. They now roam the playground every day. I have put up a small fence along the main fence today to prevent eager puppies getting through and playing in my flowerbeds.
Its a mighty fine bunch and I enjoy the time with them. A number of them is travelling quite far this time too. I have made a new video today. It is by the way much easier to use Movie Maker with the new and faster PC.

Pups 7 weeks video
here! (47 mb)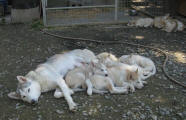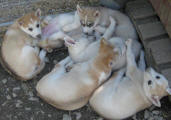 ---
6/6 New video from Sikpokpups almost 6 weeks!
Also some new pics in webalbum
---
4/6 A few new puppypics in the album!

Got ortopsyreport on the dead pup, turned out it was not Sikpoks fault, she died from sepsis (bloodpoisoning) due to stafylococcus infection in the body. Heaven knows how she got that and I saw no sign of sickness on her.
NSHKs spescialty show was ths last weekend, for the first time I did not enter any dogs since I had to arrange the show. Father of my two last litters, Arctic Soul Vytok was 2. open male and 3. best winner male, congrats! All the work with the show, puppies and a computerchrash has set me a bit behind on mailing and web-updates...
---
26/5 I

have finally made a

webalbum with the puppies. Last week tragedy struck , I found one of the *twins* dead. Most likely she has by accident been choked underneath Sikpok. Hexa lost a newborn once, but I have never ever found a large puppy dead so that felt very sad.
The others are growing and looking mighty fine


The twins
---
20/5
Puppies were 3 weeks
2 days ago- since they are so many I started feeding them a bit early.
I did not have time to update a puppypage with lots of pics like I usually do (other projects steel time these days.) but I found out it is faster to make a video than putting out a lot of pics. at the moment I will start to use an external webgallery soon for some albums, since its faster than my usual way.

Many puppies travel to people that cannot come and visit them and they enjoy seeing films and pics of them.

At the moment there are none available
See video here
---
12/5 I have made a video of the pups 2 weeks old. Watch it here!
---
3/5 Pups are 1 weeks tomorrow, they moved outside in the barrack today. All are doing fine and is growing well considering the large littersize..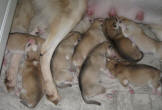 ---
27/4 Sikpok delivered with ease 9 pups last night! 7 females!!! and 2 males. So far everyone is fine.



---
26/4 Nytt SH forum! Alle kan være med, men må melde seg inn i nettverket. Sjekk ut her Norsk Siberian Husky Klubbs nettverk
---
6/4 Guess winter is over in my area, last run on the fields was the 31, not so bad after all. Still plenty of snow here but warm temperatures in the night makes it rotten. First crocus has come out. Maybe there will be some more sledding on Hamar or in the mouintans.
All in all it has been a great winter! Now comes all the springtime cleaning up job in the dogyard as sun reveals straw and dirt from the winter every day.
Here is a video of Ivers digging techniqes:)




---
27/3 Woke up to 10 cm of fresh snow! What a great march it has been, it is not every winter I can train from the doorstep. It is extra convenient now that I have all these pups. I have now put out a film of the black gang too. My house look like hurricane struck, so better do something else than editing videos for a while. It sure take som time. Enough dogbuts for now:)
Video of the youngest pups (Chasey 6 months, Tamsin, Graabein and Skarv 9 months)
---
26/3 It has been real cold at night so snow is all rockhard now. I was tempted to make another video of the Vyla-pups. They were out for tmany days now, and I am very happy with their workingspirit. And YES motive get kind of the same in all this videos: dogbuts and dogfaces he he. The videos are quite heavy, 40mb so takes time to load. Music on this last one is a bit heavy too so Anka, turn down the sound before starting it!
Video of Vyla pups running on a fast run with Nayak in lead, her 2. try.

---
23/3 Puppytraining on a warm day today. The 4 black ones were chaotic, but the Vyla-pups behave exept for yapping.
Skarv who go bananas at hookup was neutralized by Gusken today.A strict uncle does it and Gusken is very calm at hookup.
Ravn does NOT want to have stupid puppies beside him in lead, I have now learned...he growls at them and scare them to stay behind him.so while I tried to tie him a bit ahead of Tamsin (which were supposed to try leadposition) Skarv pulled out of collar 3 times while Graabein pulled the gangline backwardsand made the girls tangle again and again. Puh....




Skarv day 1 stepping on Chasey the octopus- but she has a lot of legs to protect her with:)
Behaving day 2 with a strict uncle:)

Video of Vyla-pups run (Tusse, Nayak and Dingo 11 months)

---
22/3 It`s still a lot of snow around here, many years since we could run on the fields in middle of march! Its also getting crust that holds us so we can train on comands outside trails. I will not be able to go to Rjukanløpet so main thing now is to run the pups as much as possible. I am excited about this crazy bunch of 7, all show lot of eagerness to work then time will tell about speed and endurance. There are some hotheads, screamers and linechewers though so I will som work with them when it comes to bad habits...
Here are some pics from the last days.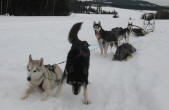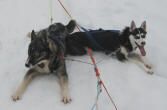 ---
22/3 Sikpok is pregnant, pups expected in end of april
---
22/3

We are long time home from Polardistans, I wrote a blog in norwegian only.
We were very happy with the result, 2. place from 9. Trail was around 170 kmtrs.
Ronny started with Ravn and Tesslin in lead, River, Vytok (borrowed from Snørokk) Kaylo and Yatho. They all did a good job, but Tesslin got tired the last kmtrs, she had less training than the others. Trail was very heavy from days of snowfall, and on this race everything have to be carried in the sled. Great learning experience for both musher and dogs I think.

Results at www.polardistans.com



---
24/2 Arctic Souls Vytok went home with us after the race, he is now bred to Sikpok. More info later
---
24/2 Ronny is entered in Polardistans 160 (which is 190kmtrs this year) We are looking forward to go to Sârna. Team will probably be Ravn, Hexa, Sikpok, River, Kaylo and Yatho. Not as many teams in this class as last year, probably because there is both 8 and 12 dog class in 300 now. I am entered in Drevsjøløpet 100kmtrs upcoming weekend but think I will not go after all. Maybe its a bit close to Poalrdistans I dont want to get sick or injuried dogs now, we don`t have reserves with enough training. And time flies too fast as usual. I have also entered Rjukanløpet then we will see if there are some more funraces to join.
It snowed all the days we were away and its recordmuch snow around here too. Here is Anna on the field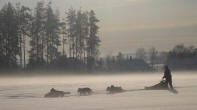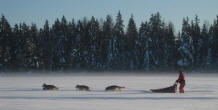 ---
24/2 Back from NSHK yearly wintercamp in Grimsbu. Friendly athmosphere and beautiful scenery since the mountainrange of Rondane surrounds this area. (Even though partly snowy weather hid it most of the time) Quite much steeper racetrack than we are used to (500 m as first 17kmtrs) , but since it`s used by local mushers it was mostly good surface on it. Second day we did not go over the highest part due to weather, so it was only 30kmtr instead of 50 but snow was slower and we still had most of the hills to cover :) And when we turned around it was sun and blue skies and we could enjoy panorama view on Rondane. I did not briing a camera since it was snow when we started. I was happy with the dogs, had been a bit worried when I started since Sikpok in heat had to run lead or else Ravn would not perform as normal. She only had two short tries in lead before we left but did an excellent job. We were nr 5 out of 8 but timegap was not very bad. I did not run or kick much either. Results here
Sunday I went out in the racetrack again. started in snow and wind but half the trip ended in beautiful sunny light. Actually the most beautiful run this winter and when a giant flock of ptarmigans, maybe 40, flew up beside the trail it was one of those moment that stick to the memory.
These camps are allways busy when you bring a lot of dogs but we enjoyed company of many faces. Jeni, Tux and Gusken joined Taiga and Larka in the Recruitrace with Svein and they behaved well. My raceteam was Ravn and Sikpok in lead, Yatho, Hexa, River Pipaluk Kaylo and Tesslin
Only side I dislike these days are the long trips on icy winterroads. After we had the accident going home from the NSHKrace last year, and some close to accidents this season I have got the scare in me and drive very slow when I have the trailer with me espescially. Not very relaxing...Here are some pics from the camp, most are from my trtainingrun sunday. Kari probably has taken some nice shots for later.
Short video from training sunday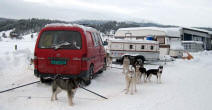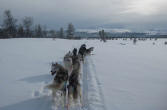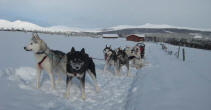 ---
15/2 Winter is at its most perfect these days, that is for sure These are the days we think about during the dirty dark and wet falltraining...Anna visiting and we went to the flat trails of Gåsbu so Vargtass could come for a run. Hills of Hakadaltrail was a bit much at the moment
Video from a trainingrun in Hakadal and on Hamar this week.







---
10(2 Congrats to Kari Hope/ Snørokk and the rest of the Femundrace finishers! Kari finished as 2. best SH team of 9 (5 schratched)
Finishing was NLC Cool fall Yippi (lead) NLC Hexov Runner and NLC Blackfoot Aakii (lead)
---
8/2 Hometrails!! For the past couple of weeks we had perfect winter conditions here. Cold (betrween 2-10 - c) beautiful light and enough snow. I had some beautiful runs in Hurdal and for the first time in 4-5 years (exept for the little puppy-trail around nearest field, 1,5 kmtrs) we have a trail on the fields. My neighbour Jan Erik opened 20 kmtrs. Quite tough with a lot of hills, and crusty snow.
Today we have MORE than enough snow and the hometrails has dissapeared under 50 cm fresh snow:) exept for the puppytrail. Just the ears of Jeni and Ravn stuck up over the snow when we opened it last night....In 24 hours we got more snow than I can remember for years...Why has it all to vcome at the same time?
All the puppies has been out, the Larka/Vytok pups are very energetic and completely slobbery after 3 kmtrs.Their sister Taiga has also tried to run in the team, and she ran good like she done it before. Graabein and Tamsin did not turn their heads once while Skarv was fooling around for 500 meters before he got the point. Then he got so crazy I hardly got the harness off him again.
The four *limpers* are all back in training , after running for shorter trips on the fields first.
We will not be able to enter Shamdraget after all, Ronny besides taking care of the kennel were going to take my weekend work but he has to go away in a urgent matter. So I will stay home and work.
Today most day went to ploughing the land around my house and being a tablemusher since Femundrace is going on!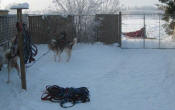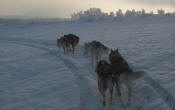 Not often we have trails from home!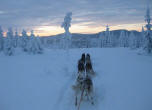 Hurdal is quiet around Femundrace...The trees have start to bend over even if the snow are light and cold.That was before last snowfall...so right now I think its not possible to pass around the trails there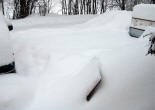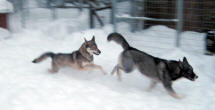 Outside my doors today....
---
19/1 Winter has returned indeed! And its forcasted snow all week. This is of course great, espescially if you don`t have to go to work in town in the morning. Its chaos all around Oslo. We got a touch of it traveling to Hallingen race this weekend, having near-accidents in both directions. One of the worst drives back from a race ever.
But the race itself went great. Nice soscial gathering (hotell), and with 70 teams(6 SH teams) entered it was a lot of people and dogs. Tamsin and Chasey was with us for soscializing and plenty of people wanting to pet them.

It was Ronnys 3. race and the longest one (80 kmtrs) this time he had no problems with the dogs underways unlike the previous races. The trail was rough after 37 teams had gone round it twice on the 160km, leaving big holes and ditches from braking. Ronny and many others flipped the sled in these narrow ditches. He passed a lot of the 160kmtr teams without any problems exept they suddenly decided to pass on right side ... Ronny did a good job running in the hills, bet the dogs thought that was nice for a change....me they have to pull mostly. Considering the amount of training lately we were happy with the team and the time(5,55 hours) The team was Ravn and Hexa in Lead, Yatho, Sikpok, River, Pipaluk, Kaylo and Gusken.
Tesslin was stiff in a leg after Vikerfjell still, luckily I found that out when I went to train 11 km in front of car on gravel and ice on wednsday.
Pip seemed ok again but limped the day after the race. Next race is SHamdraget in Sweden unless we decide to go to Rørosløpet. These raceweekends are quite costly as you know.
With all the new snow, it will be possible to harness the puppies. I am looking forward to that Results Hallingen here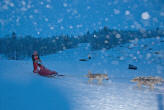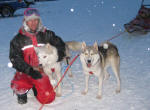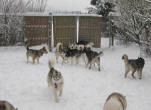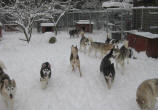 Photo Ulf to the right: great joy from being able to play in deep snow again!
---
12/1 6+ today and mostly bare ground exept in the playground which is glare ice, dangerous to let the dogs out. I was planning a trip to Hamar to train today but it was forcasted rain there too and they were planning to close trails for some days. Rest of the week are work so guess the dogs will not get out before next race, Hallingen. But its forcasted snow here from next weekend though.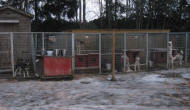 Lousy weather... Larkapups are full of energy they long for some more runs.

Vikerfjelløpet 70 kmtrs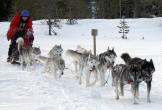 (gps said 63) went allright. Beautiful sunny weather, 2 - and clear sky, panoramic view with forests and mountains, but a very rough trail. Rarely have I used the brakes so much in a race before. Hilly, hard trails mostly sloaping outwards in the turns made me concentrated all the time not to flip over. Some lost their teams . I let the dogs trot a long in their own pace, when we turned and hit the same trail back they picked up the speed and galoped more. A lot of headon passings went just fine, but I thought for a while I was on the wrong trail...I was nr 4 of 6, with 2 and 3 just a few minutes ahead so I was happy with that. Team was Ravn and Hexa in lead, Yatho, Sikpok, Tesslin, River, Kaylo and Gusken. Tesslin got a limp on a backfoot after the race, and Pipaluk stayed home since it turned out she limped after new year too so that makes 4..(.Jeni and Pip could probably start running again now if there were trails.) hmmm...not easy.

Results sooner or later here. Pic by Anne T. More pics at www.snorokk.net and www.snowdogs.net logs.

Chasey the octopus is intergrated with the 3 darkies, she is a real fun pup. She can sleep in my bed for 10 hours without making a whimp he he. Last night I tried with both her and Tamsin (who never slept inside a whole night) , but that was not a success at least not for me. They were thrown out at 004.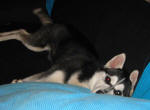 Two scandihoovian couchmonsters
---
5/1 Happy new year all! Long time no news...
We are suddenly in the main season now and next weekend I am entered in this seasons first race, Vikerfjell 8 dog 70 kmtrs.I missed Hamar Hundekjørerfestival due to work. Ronny is entered at Hallingen 80kmtrs middle of month.
If I can find room I planned to go to Shamdraget in Sweden.
It has been cold here for a long time and trails are very hard . As you might have seen on the videos, I went to Kari and Ulfs place just before christmas to get some longer runs in the mountains...well, we did not get so far as planned since weather did not co-operate but allways nice to visit the Hopes! Thanks for hospitality!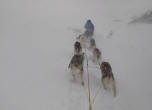 The bad november set us back with only 140 kmtrs training , dogs were coughing all month. Besides trails were mostly icy and we did not plan to do a lot of traveling to find snow. I also lost my part time job at Bento Kronen which I had for many years, so now starts the stress to get extrawork and worrying more about economy again.
We got snow before christmas and made a puppytrail on the fields, but it dissappeared too fast and since then it has been glear ice here. Larkapups seems very eager, soon it`s time for Jenis pups and Tamsin to try harness.

Since christmas there have been too little training, both because I am lazy and also because we were busy.
Before new year I went for a long drive to Strømsund, Sweden, visiting Katerina and Jachym at Kipp d Amundsen kennels. Main goal was to pick up a puppy ( right, I did not have enough puppies right now you might think) but also do some longer trainingruns and celebrate new year eve. Rock hard snow in Sweden too and I was pretty sweathy after the first two kmtrs in the brush with ten dogs and some very close up trees.... Brake did not work and dragbreak did not work much even standing on it with two feet... so day two I went out with 6 dogs and wrapped chains around the dragbreak...
Allways nice to talk and soscialize, so the long runs boiled down to 47 and 38kmtrs he he...so my dogs has still not ran a longer run than 52 kmtrs and AND again we only had 1000 kmtrs at new year.Some dogs has a bit less than that too... Same proceedure as last year James....
So Femundrace is not going to become a reality this year either but Polardistans 300 is still a goal. Jeni has been off training again because of limping and Tux got limp in Sweden. So Hexa is standin for her daughter as main leader with Ravn.

The new puppy, Hurricane Chaser Kipp D Amundsen, Chasey, is settling in well. She is soon 4 months. A very sweet, energetic and cuddely girl from a well buildt and even litter. The parents is NorthWapiitis Magpie x Enok (Ewok) from Vargevass. I know it was hard to let her go, so thanx guys for trusting me with her!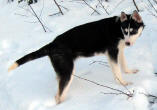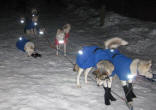 ---