Even older news 2008 2009---2011
---
12/12-20
Ooooh well...from 1 til 2 years updates...
2020 was extremely busy around here, both setting up a greenhouse, having a litter of pups and got a major renovation of my house ...Finally got the dogkitchen in main floor that I needed for 30years:) I enjoy it very much though.Better late than never...
I am getting older and dogs are getting fewer and older. In the year to come, majority of them will reach 8, 9,10,11.Some has left since last update and also some has arrived.
Myrull died from cancer, Grivna moved to Finland and Nenana live in the neigbhourhood as company for her daughter Nenya and have a blast as spoiled housedog, same goes for Svarte.Ailo spend some months here also i, as he had trouble finding the perfect home. Now he is finally landed and is thriving!.
The plan is to gradually reduce the number with natural causes down to lets say 6-7. But these dogs have been my life and lifestyle for most of my adult life, and exept for my arms that has made some trouble lately( but is recovering and I need to realize I cannot do everything I could before) I am healthy so far. So I will enjoy their company for hopefully some more years and still do some occational breedings, as I have put out some dogs on breedingterms. Running no more than 6 on sled suits me well - I enjoy skiing and walking with one at the time more again. Everything has its time....
As you can see on my homepage, there has been a new arrival from another polardog breed that is new to Norway, the yakutian laika. I was fascinated by their fantastic looks and history and coinscidents led to Snoki arriving from Elina in Finland. I enjoy Snoki and learning to know a similar but still quite different dog from the SH.
Last winter was very green around here and this one start very wet and warm too. My christmas wish is snow and trails at home!
Here is a little gallery from the past 2 years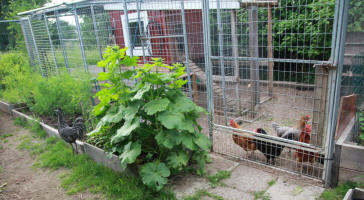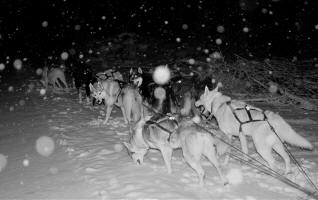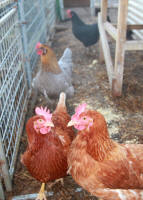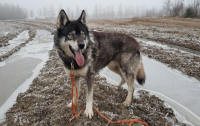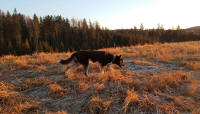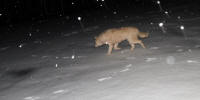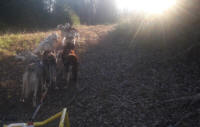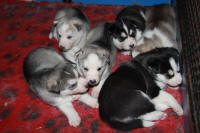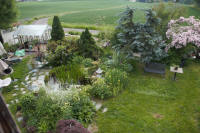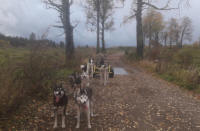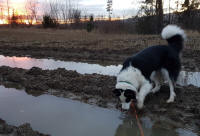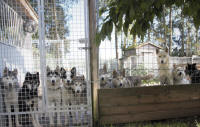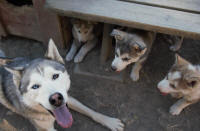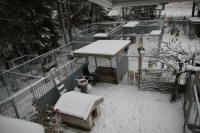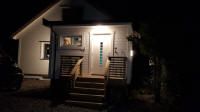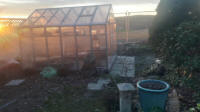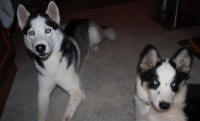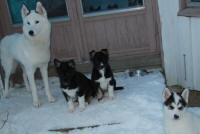 ---
2/5-2018
Even more than a year since newsupdate this time....I have updated with new films and pics in Gallery page. We had a fantastic winter! Even if sheveling almost kills you sometimes:) First time for 6 -7 sesons I had stabile snow at home. I bought snowshoes and skis to keep track open and also started skijoring again:) New startingpoint just outside dogyardgate.
Nenana have 3 week old puppies, a very nice bunch I must say!They have their own gallery now!There are some available at the moment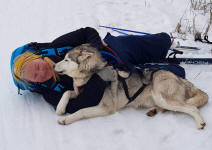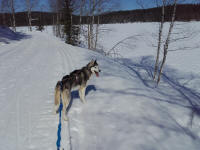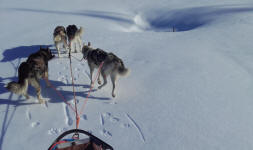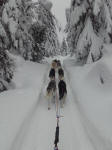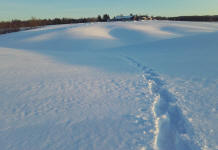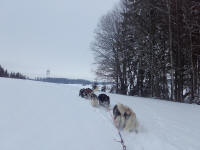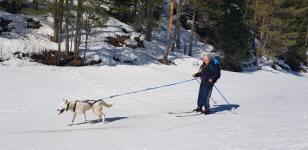 ---
2/5 This film is about Nay-La-Chee s Rohan Tuna Icecross who is a visitorsdog in nursinghomes and is training to be a therapydog with her clever owner Ann-Jonette:) Fun to see:)


---
9/2-2017 Nenanas puppies are now 6 weeks. There never came more info outside Facebook as they were spoken for quite fast. Here is a new album with images of the litter. They still live inside as the only female was unlucky, got stepped on by mother and got a wrist fracture... we hope it will heal completely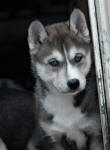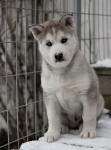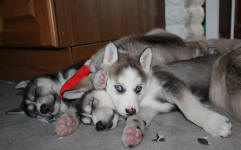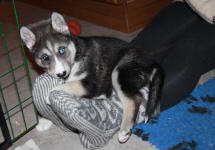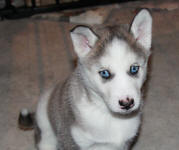 ---
9/2- Fall passed with training on Sessvoll, new area with the new cart, I really enjoy it! I attended camps on Finnskogen and Ål and a couple of rigraces. I judged SH pups and Matchshow at NSHK like last year and Matchshow at OMTKs camp, quite some fun)Winter has been more than miserable this season, mostly icy conditions since november and snow for short periods. Hamar is closest, stabile winter now- I have only been there once and tried the sled. Right now the injuried pup keeps me from leaving for too long time so dogs are exercised mainly on nearest forestroad at Årnes. I invested in good winterchains for all 4 wheels of the Troll cart so I have possibility to run with cart in a bit of snow and some ice...
Here is the only film from this falls training- last deathcramp from the Ixus.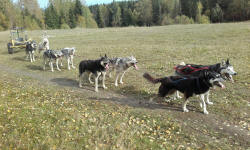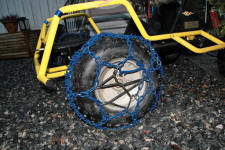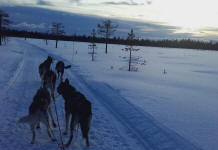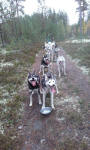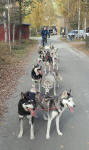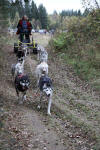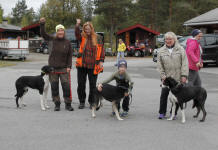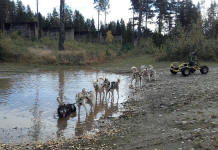 ---
28/12-16
More dogs are eyechequed this year
NLC Askesky Myrull: eyecheque/gonio clear
NLC Nateq: eyecheque/gonio clear
NLC Snowy Owl: eyecheque/gonio clear
NLC JJ Graabein: ikke medfødt bakre polar katarakt/retinaløsning /bulls eye/diverse blødninger
NLC Corvus Korp: eyecheque clear/25-50 fibrae latae Dette regnes nå som uten anmerkning
Niehku av Gamasvarri: eyecheque clear/ 25-50 fibrae latae (noe trange vinkler)
Svartedalens Nenana; eyecheque/gonio clear
Kefeus Sokrovishe Grivna: eyecheque/gonio clear

There has for the first time been a extended discussion in the SH world in Norway about eyetesting- and slowly more people cheque. Very many of the dogs chequed has fibrae latae/L pectinatum abn. My politics were allways to avoid breeding two dogs with this condition together.
List of eyetested dogs owned or bred by me

---
12/3
I never had phones suitable for Instagram, but now I could not resist anymore-My nick is naylachee, welcome to follow! Will display old and new shots.
---
12/3 Had 3 nice days at Gåsbu Arena with Lene H and all our dogs. Nice to travel away sometimes with good company, and good experience for the dogs. Not the most exciting terrain but easy to stay there with many dogs;) This time both lights and tires on trailer behaved;) That is allways a relief. My 5th Ixus has deceased and the mobilecamera is not the best but it must do.









---
15/2 I have now invested in a Troll cart wich I think is going to be a huge advantage for me.Saving time and better training for each dog. Its heavier with better ability to hold eager dogs than the Dyck so I can safely run 8 dogs alone.Besides it is much higher under it, so its possible to run in more rugged terrain- that means I have possibility to train from home sometimes too:) The suspension also make it better suited for the frozen clay at Sessvoll in this days of long dirt season.... But right now, its perfect sledding conditions in the rolling hills of Hadeland/Hurdal




---
7/2-16 The puppies have now left for their new homes Good luck to them all, looking forward to follow their future! Litterprefix is LbL (Loved by Lene) Lene and family keeps 3, one is female Tundra on breedingterms And outside the nice winter have turned into glare ice again...:(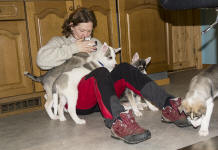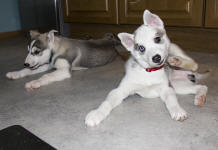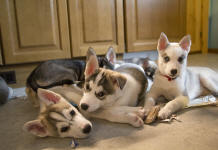 ---
29/1 Finally made an album here too with the Chika-Oliverpups;) Lene and family does a great job with them. A very well soscialized and harmonic bunch. At the moment there are 1 or 2 males available, I know witch after this weekend. They are 8 weeks next week Gallery here----->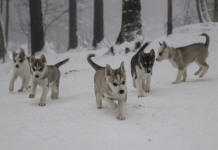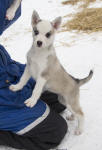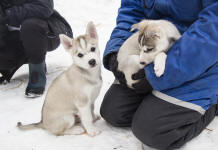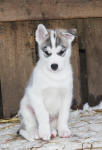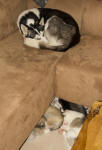 ---
29/1 Winter came at last around here too with a very cold period and beautiful winterweather. It came enough to make trails in Romeriksåsen again.A lot of snow here to but impossible to make trail yet due to fall ploughing on fields:( And today everything is melted again anyway. Nothing one can do with the *new* climate, running on sleds get more and more *luxury* in future.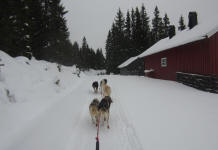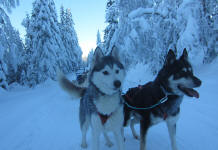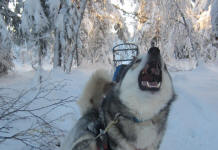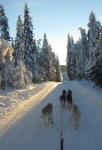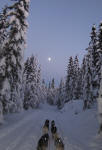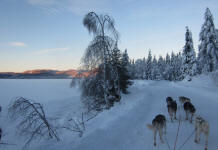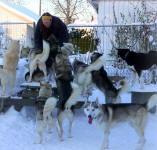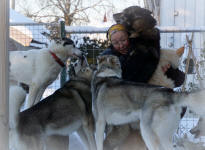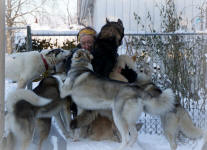 Portraits Photo Marita Pettersen

---
10/1- 2016 Had some wonderful new year days on the mountains of Ål with doggy friends;) Trouble with the trailer as always but I managed to get up and down safely;)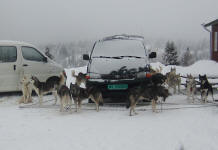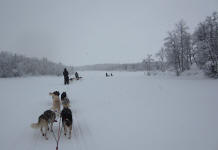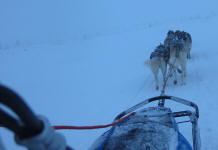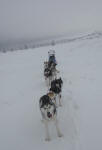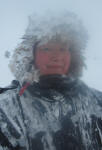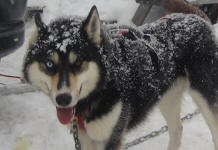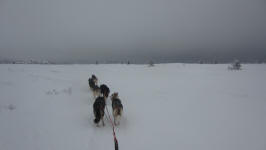 ---
24/12-15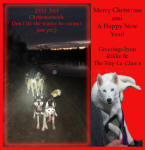 Wish you all a peaceful holliday and a happy new year! Cartrun on 23/12 is first time ever... But better with bare ground than ice all over....








---
16/12 Seems winter is not planning to arrive this year.. With a break when everything was gleare ice, I can still run with the Dyck at Sessvoll.At least they get some good training on running on glare ice;) since the puddles are frozen... I think I was never on a cart this late before.Luckily we are going to the mountains soon, hope it does not rain there.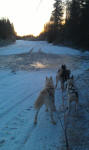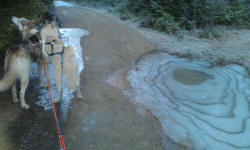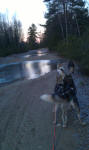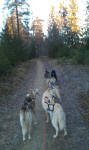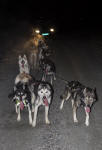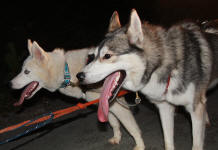 ---
9/12 Chika got a litter of 6 males and 2 females! Both Chika and Lene did very well;) One male came as a suprise 13 hours after the others. The litter will grow up at Lenes place as she never had her own litter and would very much like the experience before and I am sure she will be taking good care of them.
So Ugle was not the only Nay-La-Chee born in 2015 after all...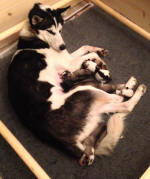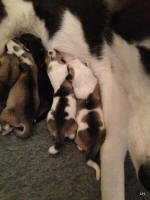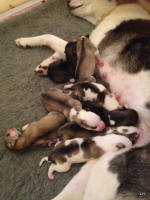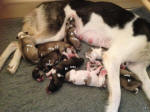 ---
7/11
NLC Rohan Chika (Isi Birkebeiner x Kefeus Naggar Tamsin), lead dog for Lene Halvorsen is confirmed pregnant with Oliver Bumble av Vargevass (Ch Thor av Vargevass x Janneke av Vargevass) owned by Steinar Bergheim. Both have very nice temperament and are good sleddogs. Info of litter and parents will come soon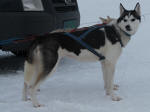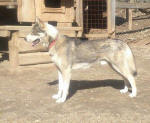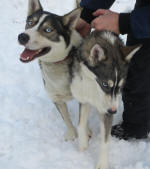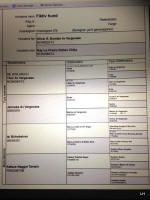 ---
7/11- Ravn was 11 years today.... He is still running lead as allways, but guess is last season he can keep it up... I dread the day without a elader like Ravn, he has been my steeringwheel all his life. ave other descent leaders, but none have that spescial way of reaction like Ravn... What he does nt have in shape and size he have in brains! Here is a film of his talkingabilities and his grandfather and his pups with Nayak in 2012...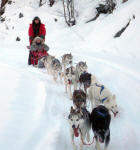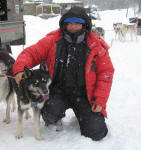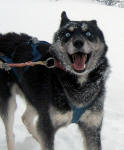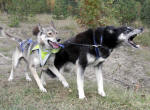 ---
4/11-2015
Yearly update again... Fall is almost at winter, but its very warm. I have still a lot to do in house and garden, one never sees the end of it.. But I really enjoy the renovated house and my new, bigger pond and I also have started up the project to grow more of my own food. Maybe I will get chickens and ducks also but need livingplaces to be build first. At least I am never bored.

Me and the dogs are out about 3 times a week since beginning of september. Mostly on the Dyckcart divided in 3 teams. Not so long distances but they have to work hard in small teams, with heavy load on sandy ground. More recently 12-14team with turnaround of youngest, not mainstring and oldies, in front of vehicle. With one stop to put all dogs in car and turn around and hook them up again, that makes 18 kmtrs trip. A bit timeconsuming, but only solution if to prevent traveling too far.
I have attended fallcamps with OMTK and NSHK again this year, my youngest generations were in need of training with other teams and it was nice to soscialize a bit for me too;) Had a great time and the weather was wonderful!

As mentioned before, not enough miles for racing, but everybody gets out and gets happy;) Niehku is at Svein and Irenes place this winter as they needed a female on loan and hopefully she will run some races in their good team. And one less to train for me. I am in the process of reducing number of dogs down to 13. At that point I will not need the dogtrailer anymore either and that will be a relief;)
Should be a decent 8 dog team + older dogs It will take a couple of years, but I am not keeping any new dogs since Ugle . Some are elderly, some have issues. I need to sell/place 1 or two. Everything is a process- a hard one but have to think of both the dogs and myself. The recent year has not been the best in my life, but its managable...

I have had many dogs for many years. Siberian Huskies will allways be the love of my life, and has been a lifestyle that demanded all my resources.. But I am getting older, there are other things in life too than watching running dogbuts;). The siberian world around here is changing a lot, not only in positive direction.
As I stopped racing I have reduced breeding, but I am not ready to give in completely yet. Espescially not when one follows the *marked* on Finn.no....
I have a base of lines/dogs I know well now, healthwise, workingwise, temperamentwise and typewise. I got some new female lines last two years also.
I will keep on trying to place females on breedingterms with people who train a lot/race and have a litter now and then.
My mainstring this year is Bark, Finn Otto, Graabein, Nenana, Korpi, Kraaken, Znoke, Myrull, Nateq and Grivna.

Here are some pics and films from the year that went by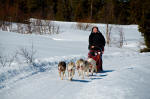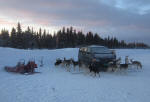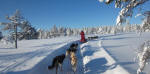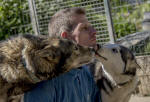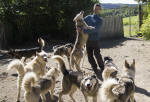 Photo Viggo Jørgensen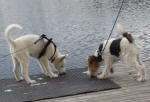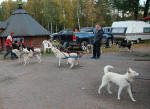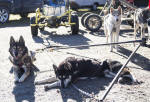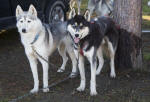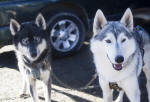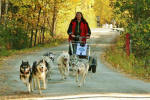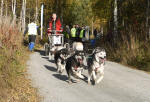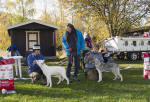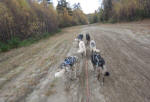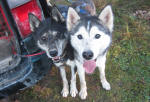 Photo R Herstad
---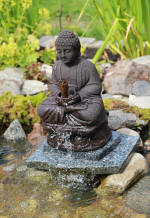 Besides the dogs, the new pond at about 1700 litres is a thing that gives me great joy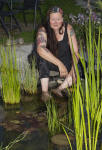 in daily life. Very good place to meditate and relax, sitting by the pond listening to the sound of running water, enjoying water plants, the 3 waterlilys espescially, and the inhabitants in and around the pond. A very good investment;)
Birds are bathing and hunting around it, its dragonflies there allways, small salamanders are breeding there, frogs are thriving.
A not so good thing is that the brown slugs has invaded us... Timeconsuming to keep them away:(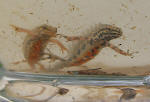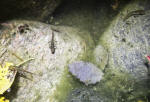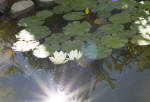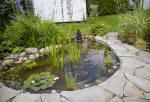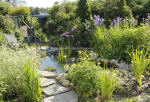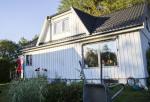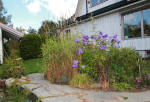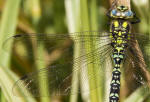 ---
Recent run at Sessvoll, exploring new trails;)


Overproduction of sweet cherrys this year;) so it was enough for dogs also

Ugle meet someone tougher than her... Mattis, a pup who was kenneled her for a week in transit to Finmark



---
4/11-15

This is NLC s Snowy Owl (NLC Muqtuk x Greentrails Kristen) As Kristen got a new heat just 4 months after last, Ugle was a surprise result... She is my first singelton puppy ever and got quite spoiled. They say singleton pups often get a not so ideal temperament with other dogs. At home its so far no problem with her, she greets strangers in a bit unpolite way though. She is very smart, have very strong nerves. She is just harnessbroken and is so far very eager.She is some spescial personality and extremely soscialble with people.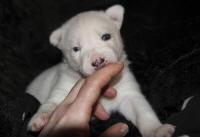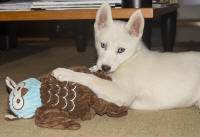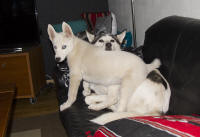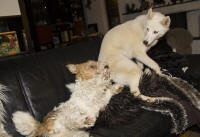 ---
8/11-2014
Oh dear, no updates for a year… Not that people are so eager to cheque homepages anymore.... Another winter is approaching- wonder if it gets colder than the last one...Last winter were the lousiest for my dogs ever, as we went little around neither for arangements or trainingtrips. From home it was unfortunatly snow just for a week and I did not have energy and money for all the traveling that is needed to keep a dogteam in good shape. Dogs get out so that all can run, same this fall. A mainteam is coming to all the trainings, then I roulate 5 older, youngsters and B dogs since they all dont fit in the car. but we are not anywhere near the amount and distance needed to enter races.At least some dogs from my breeding did good at races last winter,. NLC Hexov Runner and NLC Lava Zima became sleddogchampions (NTCH) , on the team of Tone B Hansen/Runar Golimo Simonsen in sprint and MD. Zimas littermates Goshe and Gihli ran on Svein Dufseths team who have done very well in several MD races. NLC Blackfoot Yatho also ran on Sveins team and Trond Hansen who won Polardistans 300 borrowed Yatho, he was taken out on last chequepoint. NLC Blackfoot Aki is still running in lead at Snørokk kennel, she finished Hallingen, Vkerfjell and Femund 400 . NLC Tokpok Tvilling ran on Marlene Karlssons team who became nr 4 (18) in 160 Polardistance and did well on other Md races. Good luck for the upcoming season to all!

Renovating I see an end of it.. Inside house that is… It feels good after living as a *dogmushingtramp* all my life using the resources on dogs and dogequipment, and very little on my house and livingconditions. I also got around to make a little gardenpond which I thought of for a long time. Will try to not get bitten by pondbug;) Its meditative to sit by the pond and relax;) Right now we await to know wether they will start to build 2 floor housing 4 metres from my land on 3 sides, in 10 years time or not . Buildingplans for this area will be decided these days and I really hope it will be further out in time...By then I am so old that I am probably not being able to live in this house anymore anyway....(the steep steps doesn t make it a house for older people;)
Dogyard: Did not even put out pics of the new yard other than on Facebook. What a shame. We really enjoy the *new* yard, only drawback is dogs still get quite dirty from the new sand if its wet, they turn brown all over. But they have great fun in the diggingbox and the upper-play/stay-areas…Also solarcell lamps have lightened up the yard and rest of my garden, they work well also in the fall but not so much in winter. I love to sit and watch dogs play in the yard.
Thomas have lived here for a year now. He has his own truck and works away most of the time, but love to spend some time with dogs when he is at home. Seems Grivna is his soulmate;)

Here is an album from improved dogyard:







!
There were for the first time no pups here this year since Gihli was empty. We will try again in spring. She is a very nice female and have both good looks, good temperament and good raceresults. She was empty first time we tried with Kaniq, this spring she was finished standing when I got her here. I am interested in putting out some female on breedingagreement to working homes if there will be pups.

I have many youngsters in training, hopefully we will be able to get some good sledrunning this year so I can learn more what they have in them. Unfortunatly its forcasted another mild winter but time will tell. Nenana is very eager, and with a lot of energy but also very softtempered and submissive. She has a nice size, not so good build but runs pretty smooth anyway. Grivna has grown into a compact, medium sized male, not overly hot headed in the team but work steadily. Muktuq has grown very tall and is extremely hot at hookup and intensely hard working in harness.Just hope and pray the intensity is not too much. Nateq are a bit less hotheaded, but very nice working and they have very fluid movement. The 3 *Kraakens* the Nayak/ Ravn boyz are 2 years now and work steady, also Ørnulf who was a bit off and on first season. I run 3 x 6 dogteams mostly with the Dyck, takes time and not so long runs for each team, but with a decent pace. I dread the fact that Ravn is 10 now, I dread the day when i dont have that kind of comandleader on hand. Graabein is close, but not so good at passing single dogs unfortunatly. FinnOtto runs steadily in lead now together with his halfbrother Bark.They are gettting better at comands, but the imediate reaction to comnands that Ravn had from he was 9 months, none of the others have.








Grivna Niehku Nenana, Nateq Muktuq, Kraaken & Korpi, Ørnulf



Could not resist the offer of having this girl Niehku av Gamasvarri from Kenneth Eliassen and Ann Kristin Laiti, since she have very interesting lines. Mother Desta was main leader at Magleilin kennel in Finland who recently switched to alaskans and was sold to Kenneth and Ann Kristin in Karasjok (they lived down here and Kenneth was joining me on trainingruns most of last fall) Father is Doffen av Vargevass, owned by Vesterelva kennel, from a nice litter of dogs. Very nice looking, smart puppy.

Show:I did not show much lately either. Starting to get very expensive to go to shows in Sweden due to dewormingroutines and paperwork. Entered only Nayak and her pups on norw spescialty with Anna Tørnløv judging. Many blue ribbons this year and Nayaks link of 6 very high placings on spescialties got broken by a VG. Oh well, she was very fat and not that judges peace of cake, thats showlife.Nateq was nr 3 in her class, Muktuq got best puppy in his ageclass but was beaten by younger male for best male pup. Skarv who now lives with Anette P Kolbu got to our suprice CK and 3 best open maleclass. Also great that the litter out of NLC Lava Goshe and Ulveheias Nusse bred by Svein and Irene look so good besides being promising in harness, they all did well at the show and won the breedingclass also.Atim got 3 best male and Zarya 2 best female. Congrats!

---
22/10 Meet Kefeus Sokrovishe Grivna (Kefeus Wolf Moon Einstein x Alaskans Minor of Anadyr pics below) I planned for a female from this combination but there were only one that stays with Jenni, so decided for a male since I found the combination very interesting. Grivna is a smart, energetic, loud and mischievous pup that keeps you entertained. He is very tough headed, soscial but also very opinionated...







---
22/10 Nayak got, like my guess was, 2 pups 4/10 with Forstals Kanig. They will stay at home. One of each sex. Smallest NLC litter ever, but much welcomed and better than none. Kaniq is a bashful gentleman so there was only two few second breedings at right days.






---
22/10-13. Fall again...A very warm and dry one, like a perfect summer, sunny but not too hot:) ...Falltraining has proceeded for quite a while, but no serious racetraining, but one day on and one off with some days off inbetween when something else is going on here.... Main thing is to get everyone out to run, so as long as it is carttime, I go out with 14 dogs This fall Kenneth and his two dogs Bolt and Frost have joined most trainingruns too so that means two 8 dog teams. Sessvoll where we train is more blocked now than before, with large rocks and logs to prevent motorwheicles, but its still possible to get some good rounds. As usual I hope for late but plentyful snow, november and december is allways troublesome when it comes to training around here.
Dogyardrenovation is finished one of this days, everything went smooth and below budget:) It will hopefully benefit both dogs and me.More pics when it is finished
Bathroomrenovation on the other hand, makes me want to go crazy, the promised 3 weeks has turned into soon 4 months. One sure misses shower and bathtub in the house:( But its progress, but very slow....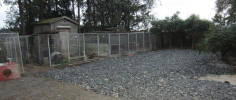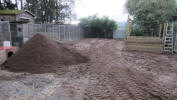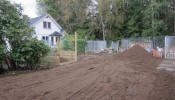 ---
27/7 It has been a really hot summer this year for a change from the all rainy summers last years. Really tropical. Dogs is getting accustumed to the new, large bathtub as I am tired of the plastic pools getting eaten. I have renovated the old pens as welds were opening and elements rusting at the bottom so quite some job to change a lot of it with new gates and elements. Digging up the mainground is still on wait. I had Alaska visits twice this summer, first Kari Skogen and JP Norris from Anadyr kennels and later on their daughter Lisbeth and a friend and two dogs in transit between Finland and Alaska. Allways nice to meet siberianpeople:) Lisbeth has signed up for Iditarod, tough girl:)













---
27/7 As I have been looking to get some new femalelines into the kennel, this is the first result of the search.. swedish Svartedalens Nenana (SUch (Polar)ch Ylajârvis Vargtass x Isdimmas Blitzen) Motherside is half and half North Wapiti/Vargevass, fatherside old swedish lines.. I am also waiting for another exiting pup to be born in Kefeus kennel, Finland . Nenana is a smart and funny pup, but its quite some job for me with a puppy without mother or siblings here. Luckily I started my vaccation as she was 8 weeks so she is following me around most of the day. Color and markings are the splitting image of her mother, so time will tell if the rest of her will remind of her too:)


.











---

27/7 Leg Tragedy struck again....NLC s Darkside Skrømt left for the rainbow bridge in the middle of june. She was my pick of Tamsin/Skarv litter and such a spescial, soscial tailwagging couchpotato. I woke up to terrible screeming and found Skrømt with her one hock (same leg as Nayaks accident) in an akward angle and hock swollen. In shock I just knew that this was not good.... Most likely she has stepped in a whole between tiles at the same moment her buddy Finn Otto has pushed her over playing. Hanne was away and I rushed to the nearest vet with her. The leg looked very akward and chances it had broken in growthline was large (wich often results in a leg that is shorter or not straight). Prognosis for ever becoming a sleddog was low and with Nayaks story close to my mind I decided to let her go. A very hard desiscion and I have been crying a lot over her and miss her every day,.
RIP Skrømt you were a very spescial girl







---
27/7 Finally I got a new Toyota Hi Ace also! Planning for a short model newer one but ended up with a long, 2005 one with low mileage. . I don`t regret, good with the extra space and the 2005 cost much less than the stronger 2007 and newer. Since I never had AC I guess I can live without it in future too:) The 2005 has 102hk, but its still improvement since my 98 model had only 89hk.... Has mounted a ventilationfan this time, both for the wellbeing of car and dogs..... Got some new cages but still the main cage is not mounted since its renovating time again and its good with the open space for transporting goods. This year its bathrooms, kitchen and dogyard that is renovated. Allways something, and it takes much longer time than expected. This house was bad from the beginning and have also been neglected over the years since most of the bundget have gone to dogs dogs dogs.....If I am lucky, next year I can enjoy it all and do some gardening again:) Digging up the exercisingpen is so expensive (espescially to get rid of the dirt) so replanned and will put tiles and woodflooring on 1/3 of the area I planned to gravel. This time I need strong cloth and nets in the ground to prevent them from biting holes in the cloth and getting the sticky clay all over the surface,. Also the oldest fences are rusty and getting destroyed so have to change a whole lot of fences. Feels like I have been carrying tiles and digging and mounting fences my whole life! at least half of it....




---
10/7-13 Late with updates as usual:) Been to two shows this spring before coats dissapeared. At NPHK Elverum, Robert Sellevik judging, Kraaken got Exc 1JKK, Finn Otto Exc, CK, 3. BHK and Nayak got Exc, CK 3AKK, 3 BTK
At NSHK Spesialty, judge Arvid Gøransson, Kraaken got VG, Bark got Suff (due to reservness) an Nayak saved the family honour getting 2. BTK with Res Cert like last year. That was her 6. show and on all 6 she has got CK(1 cert and 2 R cert) and among top 3 females with good enties. Proud of my pretty girl:) Its hard to get the large Cert though, in order to become a champion.
On the reproducingside- Gihli x Forstals Kaniq brededing was without result. I consider to have a last litter on Nayak




---
22/2 Almost 6 weeks:)





---
11/2 Tamsins pups are 4 weeks today. They still live inside since they are so few:) The pinto male is most likely available








---
11/2 Finally its full winter all over the place:) Just about enough for hometrails, which I have expanded. Last snowfall was for once not followed by rain:) Great snow in Hurdal and Romeriksåsen. So we vary where we go. As long as its trails at home I try to save some diesel so fewer runs far away. Winter at its best right now:)















---
21/1 14 jan Kefeus Naggar Tamsin got 3 females and 1 male with NLC s JJ Skarv. There were a 4th female but she was stuck in birthcanal for a long time and was lifeless when born, with airways full of fluid. .Got her back but she was not ment to live poor little one.
The other four are thriving:)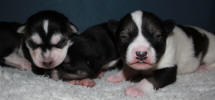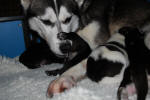 3 females, two agouti dirtyfaces and one black/white Pinto male
---
21/1 The Corvus litter are 6,5 months now and a energetic and sosciable bunch. I am looking forward to try them in harness soon:)
Here is some recent portraits of my boyz:)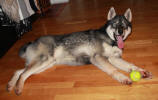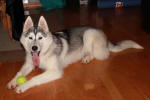 ---
21/1 Participated at Hamar Hundekjørerfestival in 8-dog sprint 16 km. + degrees and rain was not the thing for my not -ideal-conditioned furballs so there were not excactly sprint speed exept for the first 15 minutes day 2:) Changed leaders some times underways and had some snoweating breaks (even though they were well hydrated) Nayak ran in lead first day, slowed down at the last part but think it was the heat that bugged her more than her leg. Next day Bark and Znoke/Haidi ran in lead and we had a cleaner run but way behind the others. But we will come back stronger! The team was mostly my younger dogs who did not race before (exept for rigraces) so it was good training for them and the pups that I brought to Hamar:) We slept in tent and enjoyed the musherdinner on saturday Nice weekend whatever:)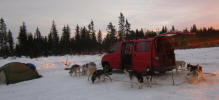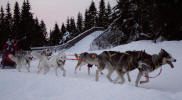 Teampics are Tone B Hansen and Svein Dufseth with NLC dogs in their teams Great fun they got hooked on racing:)
---
21/1 Snow came and 17/12 Ronny opened the maintrail on the fields with skies and sled- That is record early, before we had it at 26/12. So good indeed to hook up the dogs outside the gate again (not possible last winter)
Unfortunatly it rained away 29/12. After a few days of mild weather we had real cold winterweather, still on. Very frustrating that snow went away before this cold period:( So then we are doomed to travel to Hurdal, 50 min drive from here, in order to train. But after all its good to have a place to go to , where you can run sleds...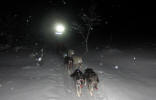 ---
21/1 Participated in Dogs4All (not working weekend for a change) Been a while since I participated on stands (but did my share for many years) Brought a bunch of dogs (Nayak, Korpi, Finn Otto and Falk) who spent some hours in the pen on NSHK stand. All of them are soscial and pretty spescimens:) And events like this are good training for them also.






---
21/1 19 november I had to say goodbye to Nay-La-Chee `s Iver Glipp (Alka-Shan Fudge of Sno-Fire x NLC s Cool Running Kenoia) , 14,5 years old. He had been stiff in his back for quite a while but happy, talkative and eating like a horse. But this late evening I heard warningbarks outside and found him cramping in a heavy seizure ( first time any of my dogs had a seizure, but not uncommon in such old dogs) so I went to vet hospital right away (luckily my sister was on duty) and put him to sleep.RIP Iver, a kind and spescial boy and foundationdog at my kennel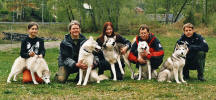 ---
21/1-13 Resyme-time: Middle of november, Graabein got a very nasty toe-injury, it was split in half (probably from fencefighting about girls in heat:( It was excellently sowed back in place by my sister Hanne and maybe excellently nursed by me- 5 weeks later he was out running again with the toe functioning good (we feared amputation at first since it was so demolished) Graabein was a nice insidedogs except for a few peeingaccident on corners:) Allways inconvenient to get a main comand-leader injuried, glad he is back:) But with less training thanthe others:(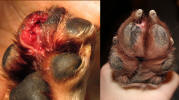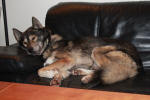 Merry Christmas and Happy new year!

---
4/11 Snow came early, end of october! Dogs loved it, but I allways fear early snow since it often turns into ice and lousy conditions. Luckily it rained away in a few days....One have to endure all kinds of weather when into mushing, here is an album in the spescial light late moist nights can bring on. One have to look for beauty where it can be found:)







---
4/11 I got around to this seasons last rigrace, Haloweenløpet. Lots of people and teams and lot of waiting to start, good training for the dogs.
Many NayLaChee dogs to meet this time:) Without the superscreamers Znoke and Haidi, they were suprisingly calm:) Team was Nayak and Graabein in lead, Dingo, Myrull, Bark, Fnotto Ravn and Skarv. Age and build are catching up on Ravn, he have a hard time sprintrunning long downhillstretches and I had to brake for him even if he ran in wheel..I won the 8-dogclass this time. Results here
Unfortunatly it seems that we might have cought kennelcough, time will tell...
Teams of Frank and Nina, and Svein D. NLC Gihli ran in lead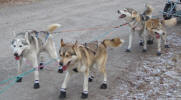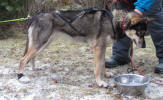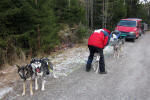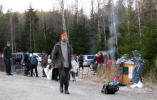 ---
18/10 Me and Ronny went to NSHK s fall camp in Ål Hallingdal., with men and mice. We were lucky with the weather and had a very nice time. Puppies were very clever in traveling and made no fuzz about being in the cage or being tied up at the stakeout:) I entered the rigrace with Nayak,Graabein, Dingo, Bark, Znoke, Myrull Skarv and Svale and won the 8-dog class:) There are fewer rigraces to attend this fall, two were same weekend, now its only Haloweenrace left...Nice,sosciable weekend and as usual, we were the last to leave after training two treams and packing the circus together
Album from the trip here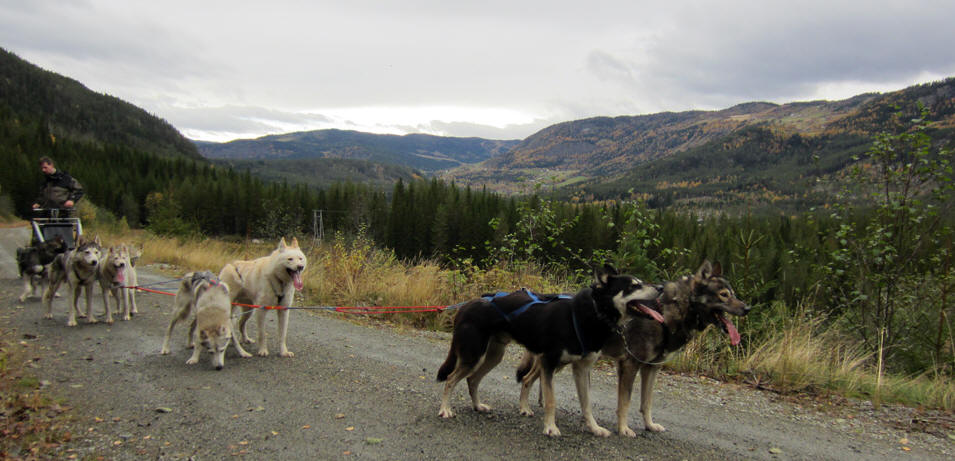 ---
18/10 I had entered two dogs at the swedish SH spescialty, and Anne Kari and I had a nice trip to Idre in beautiful fall weather. Judge for males was Erna-Britt Nordin. River got an Exc in workingclass, Finn Otto got Exc, CK and nr 2 in junior class:) He was a bit out of mood, being overwhelmed by the big world:) All and all this former chubby little chap have grown to a long legged, max size male cute as a doll and with a pleasant temperament. He is started in harness and is very eager in his work so far.
Also met up with Marlene Karlsen who brought home one of my female critters to try out in a smaller kennel than mine.)





---
18/10 It took a while to get everything ready to start the trainingseason. A lot of back and forth with the Dyck cart and missing parts--More and more parts were changed, now Ronny know the construction of the mechanisms in a Dyckwheel, and it will be easier another year...hopefully
So we did not get going before 17 september. As usual I (and Ronny) train two teams so it takes time. Weather is as last year, very wet and grey....But in order to get enough training on them to at least enter som shorter races this season we have to get out in the mud and water quite regularly....
I bought 3 new solid dogcages, because of a lack of thought for a moment, the whole old dogcagesystem had to be taken apart to get the new one in... But now its very functional exept I dont have the opportunity to sleep in the sidedoor area anymore....








---
Nayak has been running in full training, but have on several occations limped for a little while, after resting in the car or doghouse. So I think my hope of her racing again is not coming through. its sad to loose such a fast, fluid running, hardworking dog in the team, but at least I am glad she can run shorter distances and enjoy herself. She runs in lead and keeps up the speed. With such serious injuries as she had, there will be arthrosis sooner or later.




---
18/10 Nayaks puppies have of course left the building, and 3 boys stayed here ....I could not make up my mind who to keep, one Nayak replica, one reminding of Ravn and Ørnulf reminding of only himself:) Also have some slow descending testichles among some of the boys, something that is unusual here:( Time will tell...These boys are ekstremely brave and sosciable. Not afraid of anything so far.The other 4 has got new homes around Norway.Looking forward to hear about their progress:) The littercode ended at Corvus, latin for the crow-family:) My boys are Korpi the black one, Kraaken the light one and Ørnulf the agouti. Ørnulf is such a great model that he got his own album:) His expression is very cool:)






---
19/8 Puppies are 5,5 weeks now. I update Gallerypage once a week. Also put out a film where they can be seen. Video here



---
11/7 Nayak delivered 7 pups today, 2 females and 5 males. There are 2 males available at the moment. Everything went well
The litters Gallerypage here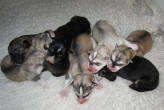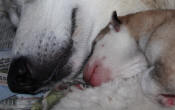 ---
11/6 My old favourite NLC `s Iver Glipp turned 14 in may! He is walking stiffly but is still happy and talkative and seems to enjoy life. Eat like a horse and dig holes with the rest of the gang....He allways was a very sweet dog. But they might leave anytime in this age..
.


---
11/6 Art news: Since fall, me and the dogs have been to several photoshoots with talented artist Noah Alveberg. That has been great fun:) He recently had exibition in Oslo. Also he has made a video with dance and the dogs involved, link when it appears online. Graabein and Jeni also attended a fashion photoshoot for Momo Sabah but so far I have not seen the pics. It was a bit nervy since models had very expensive clothes on, and both dogs are witout maners and were shedding like hell:)I think it is fun to attend things like that:)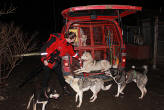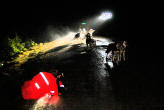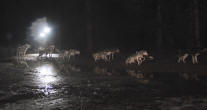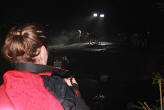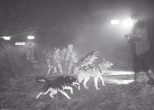 ---
11/6 Shownews: Have attended a couple of shows this spring with Nayak and Bark. Nayak has been in full coat and looking good:) First show was Polardogclub, with well known Karsten Grønås judging and entry of 32 sibes. Nayak was BIM (Bos) and got her first Cert! Bark was nr 3 in Open class with Ck. Next show was NSHK Spescialty with recordlarge entry of 92, with Ali Koops UK judging. I had entered Svale and Falk too but it was so tropical hot that week that I did not have the energy to showtrain them from schratch so left them home... Bark got an Exc, but Nayak went on to become nr 2 Best female with Res cert! Nay-La-Chee got nr 1 Breeders class with HP, with Nayak,Bark, Zima and Gihli Good showresults are more satisfying when judges are breed spescialists:) And it is of course touching for me that Nayak can run again, in showrings and in harness, without obvious signs of her injuries:)
Photo of Bark: Anita Egerbakken Nayak: Tanita Hakkebo Ragnes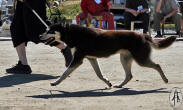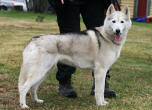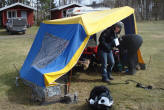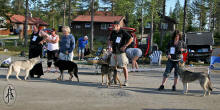 ---
11/6 Long time again! Its the age of Facebook I`m afraid. I have just last week finished renovating of the living room.-took 8 mnths with on and off work. Puh-never again.... The winter passed with lousy snowconditions around here and too little sledding. No travelling for training ,races or camps. All and all it seems pretty unrealistic that I get going again with all the travelling for racetraining. I am not sure if its worth it for me. I don`t think there will be any moving either. One doesn`t get younger, back and knees are starting to say hello...
Things have evolved a lot in the norwegian siberian world the last 10 years. When I started racing in the beginning of 90 ths, there were very few siberian teams around and few kennels. Nowaydays there are again a lot of interest in working siberians, many new kennels, many entrants in races osv. People train much much more then in earlier days, long distance is the *thing*A good developement for the breed one must say. But it takes a lot of time and resources. Many who have to travel a lot to train. Kind of ironic to use so much gas to compete in a wintersport...But hopefully we will have snow down here a while longer:)

But right now I look forward to use the cart again- as long as its that time a year (may-november) training is more easy:)
It is very releaving to finally be able to fix up some parts of this house. Now its time to use time on understimulated dogs and understimulated garden:)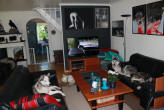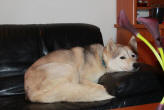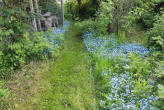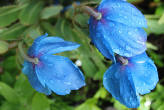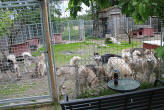 ---
16/1 Time for a little update. Buisness as usual-I am too much of a Next years musher these days...For the 3 winter. Training proceed as usual okay on cart until november comes, then starts the traveling-hazzle. Almost 3 weeks without car did not help (but at least car repair got cheaper than feared since I managed to find a used part) then came the periods that we did not have for the last 2 seasons, the slick icy part for weeks and weeks. So slick at times I could not even let the dogs out in the big pen in fear of injuries. And there is not much traveling to find snow these days. Oh do I miss the last two winters trails outside the door....
Renovating is going slow, but forward. It takes much more time than I thought, but its getting very nice.
I have destroyed my third Canon Ixus, so now I have no small camera to keep in thre pocket again...The Eos is not as practical to bring along. Next time I will get a waterpproof camera that do not retreat its lense... Maybe then no sand or dogfoodcroms will get stuck inside it....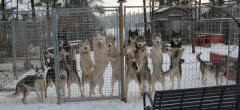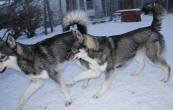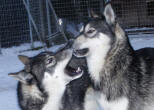 ---
1/1-2012 Tamsins puppies have left the nest. The male Finn Otto stays here as for now, Chika is with Lene Halvorsen on breedingterms. A very sweet, tailwagging gang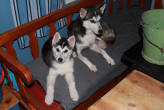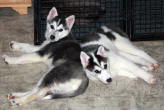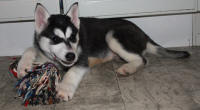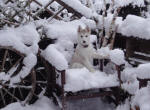 Finn-Otto, Tuna, Tinka, Chika and Saga
---
Happy new year 2012!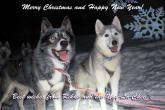 ---
24/11 Poor Skarv cut his toe really badly, probably on a metal doghouseroof. Big chunk of the toe was sewn back on and I feared to have this hyper guy living inside for long time. But sometimes you get a surprise:) Skarv is a smart guy and he behaved so calm and nice living inside for 5 weeks. Part of the toe is forever gone, but hopefully it will not affect him when running.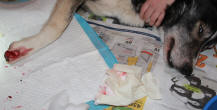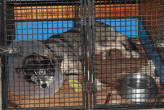 ---
19/11 I have finally made a Gallerypage for the Rohan-litter. (Ronny and Hanne helped them to the world:) They are 3 weeks now and still living inside thanks to the large cage in the kitchen. A very cute bunch:) At the moment the male puppy is available. We have a mild fall this year, no snow. I don`t miss it actually, since I always fear the blue ice covering everything if it snows too early. At the moment the Dyck cart is out of order waiting for major repairs and yesterday my faithful car stranded with some expensive repair comig up...its a hazzle to be without car living in the countryside. I have a bundle of ehadlamps but now hardly anyone work again. House its chaos but slowly getting there. Oh well. Thats life.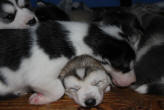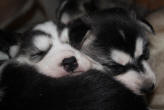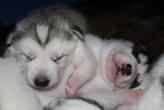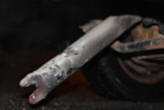 ---
30/10 We participated in the last rigrace of the season, Haloween race, 6,6 km at Mangen. Soscialble event and I brought the 3 youngsters to get some soscialisation, but boy even with few trips out in the world, those 3 are very peopleloving and soscial by nature! Since I now has destroyed my third Canon Ixus by having it in my pockets without cover, no photos from this event. Since Ravn has problem with keeping up speed in long downhills, alternative leaders was Nayak, Haidi and Znoke- Lost time when Haidi and Nayak did not listen very fast in a crossing and Znoke bolted from the speed in the hills back down. I had to stop and go very slow to get her going again...But Nayak ran like crazy:) But she is NOT good at standing straight ahead when we stop, unless she has a steady leader beside her. Rest of the team was River, Dingo, Bark, Graabein and Myrull. Viggo J had fastest times with his 4 dog teams and Erik Greger beat me with 47 seconds in 8 dog class this time:)
Its very warm at the moment. I don`t mind because I allways fear the first snow that allways turn into ice and make it even harder to train. We had some hazzle with the Dyck cart this fall, it is eating brakepads. Guess its getting old. Ronny has gotten good at changing brakes-we also changed caliper but brakefluid is still leaking and it is still eating brakepads. We will now change wheel bearings to see if it helps.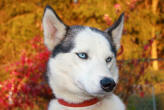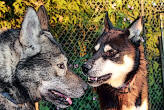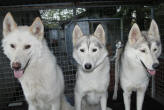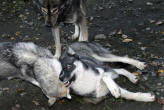 ---
29/10 Tamsin and old Isi got 4 females, one grey, one black and two black splash coats and one dilute black male! A bit suprising colours as I expected greys only! They are doing fine at the moment. A gallery will be put up soon!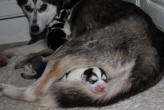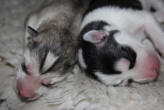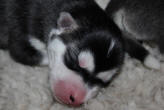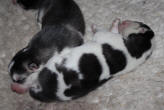 ---
20/10 I am a bit stressed now due to the upcoming racingseason. I have not raced for two seasons so feel we have to show something this one. As long as you breed pups I think you ought to race regularly. But seems like bad planning can make it another non-racing-short-race season. The first two weeks on my holliday I used while having pups in june. The rest was taken out in september and renovating my living room was finally due. New roof, new wallpaper and adjusting lower part of steps with new ones and a wall...... and man it is a bigger project than I feared. It`s living in chaos for weeks and weeks....I have a large livingroom, so I have furniture, TV and PC in one small part and renovating the other before I switch. Hopefully I can finish at christmastime....Luckily Hanne and Ronny are good helpers, Hanne being carpenter as good as anyone:) On top of that Tamsin got her litter- not the best part of the year, since it makes you dependent on puppysitter if you leave for trainingweekends, and they also take up a lot of time. Well, time will tell as they say. My main goal is to enjoy life:)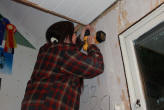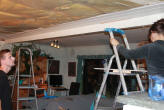 ---