NEWS 2010/ 2011
19/11 I have finally made a Gallerypage for the Rohan-litter. (Ronny and Hanne helped them to the world:) They are 3 weeks now and still living inside thanks to the large cage in the kitchen. A very cute bunch:) At the moment the male puppy is available. We have a mild fall this year, no snow. I don`t miss it actually, since I always fear the blue ice covering everything if it snows too early. At the moment the Dyck cart is out of order waiting for major repairs and yesterday my faithful car stranded with some expensive repair comig up...its a hazzle to be without car living in the countryside. I have a bundle of ehadlamps but now hardly anyone work again. House its chaos but slowly getting there. Oh well. Thats life.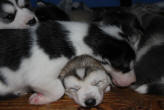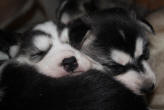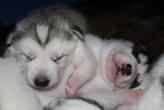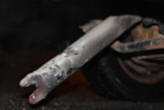 ---
30/10 We participated in the last rigrace of the season, Haloween race, 6,6 km at Mangen. Soscialble event and I brought the 3 youngsters to get some soscialisation, but boy even with few trips out in the world, those 3 are very peopleloving and soscial by nature! Since I now has destroyed my third Canon Ixus by having it in my pockets without cover, no photos from this event. Since Ravn has problem with keeping up speed in long downhills, alternative leaders was Nayak, Haidi and Znoke- Lost time when Haidi and Nayak did not listen very fast in a crossing and Znoke bolted from the speed in the hills back down. I had to stop and go very slow to get her going again...But Nayak ran like crazy:) But she is NOT good at standing straight ahead when we stop, unless she has a steady leader beside her. Rest of the team was River, Dingo, Bark, Graabein and Myrull. Viggo J had fastest times with his 4 dog teams and Erik Greger beat me with 47 seconds in 8 dog class this time:)
Its very warm at the moment. I don`t mind because I allways fear the first snow that allways turn into ice and make it even harder to train. We had some hazzle with the Dyck cart this fall, it is eating brakepads. Guess its getting old. Ronny has gotten good at changing brakes-we also changed caliper but brakefluid is still leaking and it is still eating brakepads. We will now change wheel bearings to see if it helps.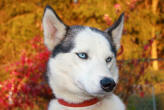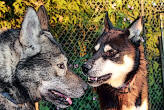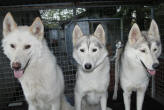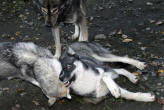 ---
29/10 Tamsin and old Isi got 4 females, one grey, one black and two black splash coats and one dilute black male! A bit suprising colours as I expected greys only! They are doing fine at the moment. A gallery will be put up soon!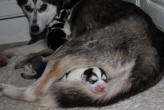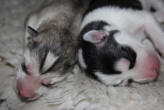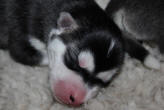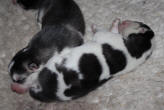 ---
20/10 I am a bit stressed now due to the upcoming racingseason. I have not raced for two seasons so feel we have to show something this one. As long as you breed pups I think you ought to race regularly. But seems like bad planning can make it another non-racing-short-race season. The first two weeks on my holliday I used while having pups in june. The rest was taken out in september and renovating my living room was finally due. New roof, new wallpaper and adjusting lower part of steps with new ones and a wall...... and man it is a bigger project than I feared. It`s living in chaos for weeks and weeks....I have a large livingroom, so I have furniture, TV and PC in one small part and renovating the other before I switch. Hopefully I can finish at christmastime....Luckily Hanne and Ronny are good helpers, Hanne being carpenter as good as anyone:) On top of that Tamsin got her litter- not the best part of the year, since it makes you dependent on puppysitter if you leave for trainingweekends, and they also take up a lot of time. Well, time will tell as they say. My main goal is to enjoy life:)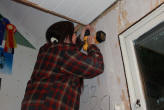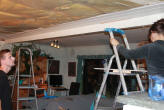 ---
10/10 Weekend was spent in NSHK `s fall camp in Ål. Nice weather first days, and first snowfall sunday! Deliscious italian dinner saturday night:) We lived in the bottom of a large campground so felt a bit unsoscial at times and time allways fly too fast. I don`t like to leave the dogs unatended at stakeout so takes time to get them all in and out... Rigrace as usual saturday- me with 8 and Ronny 6 with the slower ones and females in heatI He had some leadertrouble underways. Nayak ran good in my team again while Ravn had some trouble with speed downhills Got beaten by Johanne and Cato with a few seconds. My team was Nayak and Ravn in lead, Znoke, River, Myrull, Dingo, Graabein and Tvilling As allways good training for the youngsters. The 3 Sikpok/Ravn pups got their first 2 tries in harness. No hesitation. We also tried their brother Nansen in the team but he thought it was scary. People left early sunday due to the lousy weather.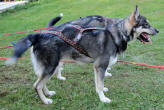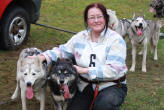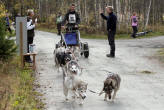 ---
25/9 First rigrace of the season, at Sessvoll. A muddy and fun 10 km run, but a bit hot. Not many SH teams entered. Nayak ran in lead with Ravn and did a good job speedwise, but she is not perfect on comands yet. My team was Ravn, Nayak, Sikpok, River, Dingo, Znoke, Myrull and Skarv. I have faster dogs than Skarv, but he makes so much noise when left home that he had to come:) Rigraces are allways soscial for people and dogs
I put out a Gallery from the event
Results here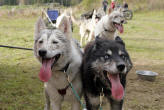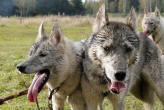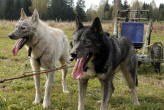 ---
20/9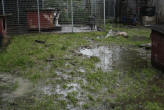 Weather just keeps on being SO miserable this year. Rain is just pooring down, soaking everything- day after day. Makes dogtraining a hazzle sometimes. But also some fun. My dogs get well used to wet conditions- But on this film even Ravn bolted once and made a mess.

This film is from an evening were we got even wetter than normally
Enjoy!





---
20/9 Took a trip to the swedish SH Spescialty in Idre last weekend. Wonderful sunny weather for a change:) Entered only pups Falk and Svale and Nayak.Hauk came along also, the 3 of them needed some traveling and soscialisation. Pups behaved well and were happy and soscial- both ended in the middle of their classes with HP. I was more ecxited about Nayaks showdebut after her injury. She ended as nr 3 with CK in an open class of 30 dogs! She was not placed in winner class, but her littersister Ice living in Sweden was nr 3 winner bitch with Cert. So that was great fun! Nayak was flirting with all females around her. Also her sister! I am so proud of her/us, she have come a long way since last years unfortunate incident. She now runs in the team and also ran smooth in a show ring. I was awake all night listening to locals burning up and down the mouintans with their trucks- so too tired to take a lot of photos at the show. Even went home before finished, to get some sleep. Took a chance on the gastanklight and ended up waiting for 1,5 hours along the road for NAF and diesel. Blærgh... Sunday it was time for the annual HSHK dogmushing seminar- allways nice and also a chance to burn some money for shopping:)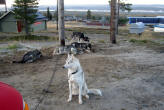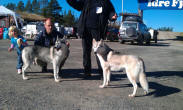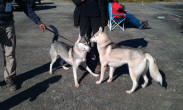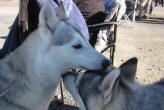 ---
12/9 Big boy Kaylo have participated in a film/photoshoot for artist Noah Alveberg. He behaved sooo well in his role and I think not so many of my dogs could have done it. Can`t wait to see the final results in the spring. The evening out in the dark forest caused quite a lot of laughter and some pretty wet and cold feet as the location was on an island in a little pond. It is not often I go out in the water and espescially not dark creeks with yakky scary slick bottomsurface..Kaylo was carried out and swimmed back to shore after) .Anna and Blote came with me, Blote as stand in in case Kaylo would not cooperate, as Blote were more welltrained. That was last time I saw Blote, next day he was kicked by an attacking moose as Anna walked the dogs and had to be put down. Moose are some scary animals sometimes:(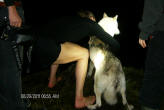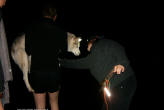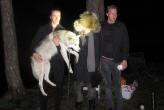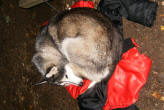 ---
5/9 Rain rain rain- that sums up the summer--wettest one for 110 years they say. Not so cosy in the dogyard when its wet all the time. In the pens, they live on concrete tiles, but the big pen is covered by grass and decomposted grass on top of the gravel and that makes everything yakky:(
The pups are growing big- pretty energetic youngsters. I still have Hauk here, was thinking of harnessbrake him before I try harder to sell him
Nansen and Gaisà visited recently, they are both well buildt and racier looking than my 3.

I have been out quite some times with the cart, during summer and in august, but often its too humid and hot too when training is planned.
Good thing is that Nayak is back in the team:) How far she will be able to run without problems its too early to say. She runs 9 kmtrs in good speed with ease and no limping and stiffness afterwards so it looks good.
Here is a recent film from a typical late night training run (with Nayak in lead)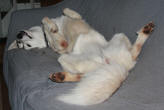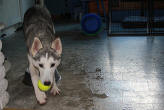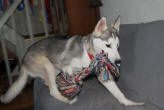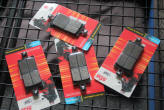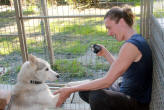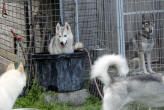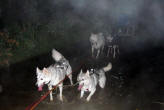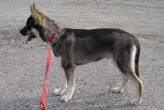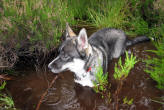 ---
10/7 Hundehus selges kr 1500 Innvendig høyde 54, ca 60 x 60 bredde. Løs bunn og løst tak. Mail meg v interesse.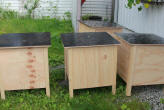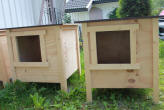 ---
10/7 We have been out with the cart a few times but lately it has been mostly very humid air besides hot. Meanwhile the dogs are just roaming the pens....Every year I think I am finished with fixing dogyards for a while, but every year there are new projects. After the snowy winter I got new climbers so have to climb-secure more yards. I also plan another entrance out of the yard and to the sledtrack on the fields that might be more practical. Will also tear down the roofs over the 3 yards and replace it with nets. It gets too smelly under there somehow. Good one never get time to get bored....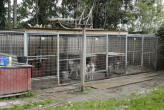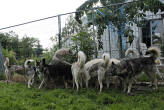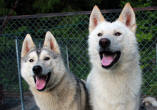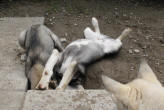 ---
10/7 As planned, Ylva the dark female stayed here til she was 3 months and have now left for Bergen. Falk and Svale are staying here for sure but I will most likely sell Hauk. He is a tailwagging, happy, talking guy. All the pups have settled well in their new homes, they seem to be stirdy and smart personalities. Me and Anna took Ylva and Falk to Lillestrøm at 4 th of july celebration. Must say I was impressed how they tackled it. They were petted by loads of people, wagged their tails and were not at all afraid of all the noise and things going on. But they slept hard afterwards!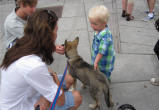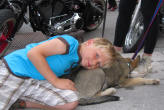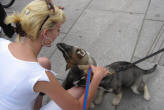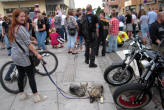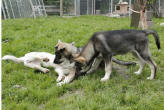 Hauk

Svale

Falk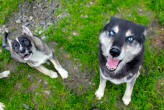 Pups talk like Ravn
---
10/7 This is Bark, Haidis brother. He went with two pups from Nayak and Jeni to a friend of mine, but has shown totally different (lacking) attitude in workingsituations than the other two. So I have him here to try him out in a new environment. He is a very sweet and spescial boy with beautiful build and type, but very *soft* in temperament.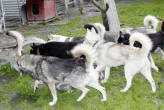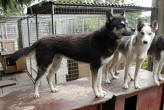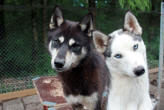 ---
10/7 Nayak was at the last cheque with the surgeon Peder Haaland 3 weeks ago. Things are as well as they can be under the circumstances now. The tendant that was operated back in place is stabile where its supposed to be. She can play, run and work and the limits are what she can take without having pain. As a result of the large wound to the bone, the skin on the hock is unflexible scartissue witch make her not stretcing out the toes completely. I have replaced half of the fences in her yard with bars so that she cannot climb along the walls either. Last month inside she has been destructive when home alone so good to be able to put her in the pen now and then:) She is also intergrated in the pack again after being *outside* for a year.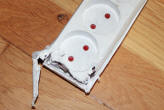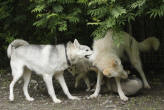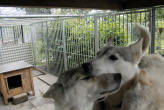 ---
7/6 As usual, time fly. And the puppies are ready to leave for their new homes this week. It is a very nice and soscial gang of pups. Exept for two short croups they look very nicley buildt too. I am keeping the light female, Falk (stripegutt2) and also Jerven(who reminds the most of Ravn besides Stripegutt1) . I possibly sell one of them later. Here is finally a video of them too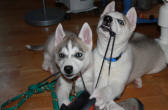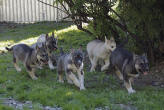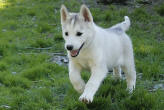 ---
25/5 Nayaks wound are now history, she is getting more of a rascal inside Have appointment with the surgeon for cheque up in 3 weeks.




---
25/5 Pups are 6 weeks today-and starts to demand much more. They are a great bunch:) It is still not set who goes where- I wait as long as possible. Sikpok has recovered well after the pyometra, but she is not as patient with these as her last litter...I put out new pics regularly on Gallery. Will try to make a film soon.






---
25/5 NSHKs spescialty show was held last weekend with large entry. Since I organize, I did not show last two years but this year I showed a couple also.
River got a Very good, Tvilling got excellent, CK and nr 4 winner bitch. Her sisters Tella and Lilletusse both got excellent and Lava Zima got best juniorbitch with CK Nay-La-Chee got HP and won breeders class. Tvilling and Tella joined Arctic Soul Vytoks studdogclass and he got HP also.
Very nice and soscial weekend with good weather. I brought Nayak and Haidi for soscialisation, Haidis first *camp* And as I feared, she brought on the *wondervoice* that she use in harness when she was tied up outside...Here is a Gallrypage from the show






Tella-Lilletusse-Zima
---
6/5 Finally I got the cart out after the snow melted....Hopefully we will keep them going over the summer, even though I said that every year and it never happened. Nice to train while birds are singing! But mosquitos are also singing allreaddy... Hopefully we will train with other teams too. I have many youngsters that did not meet many other teams. First try yesterday went really fine, noone did mind the passing team allthough the passing team minded us:)
---
6/5 Puppies are 3 weeks now and a funny bunch. I handfed them with meat since they were 2 weeks for an experiment- so they are allreaddy climbing my lap and wagging their tails. Sikpok got also sick in easter, her face and feet swallowing up..she was drinking like a madman. .turned out she got pyometra, but it has passed since she got Tribrissen. Cannot get stronger medicine because of the wheening pups. Hope it do not return, Knock on wood....I put out new pics of them today in Gallery. Seems I have one male and possibly a female available at the moment.








---
6/5 Nayak is progressing fine- we are walking everyday(good for me too) and she steps much better on her foot than before operation but still limping a tiny bit and not supporting it 100%. The wound she got on the hock again, is very small now and I expect it to be closed next week. Bye bye bandages hopefully.) We been through some this past year...Nayak is such a kind girl, she behaves inside even when left alone when I go training the others. Right now she very much want to be with Sikpoks pups but Sikpok dont agree. I will soon buy new fences for her pen with bars, so she cannot climb the walls. Nayak got sick in easter-I had given her chickenbones and I think she swallowed one without chewing- I got the biiiiig scare- after all we have been through, would she be killed by a chickenbone I was stupid to give her? My relief was BIG when she turned back to normal after 2 days and from now on she will bark in vain when I eat chickenwings....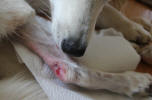 ---
15/4 Sikpok/Ravn got 9 fine puppies yesterday! 6 males and 3 females. 6 are dirtyface black and agoutis, 1 male and 2 females are grey. Not sure exactly how many are available at the moment.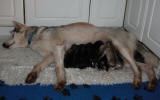 ---
29/3 Wonderful winter this year also, still running on the fields today! Have put up some videos lately on Gallery page
Ps: 31/4 was last run from home...It was crust ffor many days, so we could run all over the fields and train new leaders on navigating.
then some more days with play in the slush before spring mud take over for a period.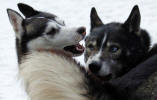 ---
28/3 Nayak was operated the 25/3 and here we go again with bucket on head, medicine and rubbercover on bandaged foot.
The hock was not a pretty sight inside the surgeon said. The tendon was split in 3 but intact lenghtwise, the bone it is resting on was damaged and the tissue to hold the tendon too, but its stitched back in place and we will hope for the best. She will be better than she is now but he cannot forcast how her sledding career will go Video of Nayak


---
7/3 Spring weather is arriving here now. We had another good, cold winter with lots of snow. Like last year I stayed in the neighborhood...its just sooo convinient to train from home even the landscape is not exotic. And its short runs mostly, so this winter and last we did not cover any large amount of trainingmiles. Not that we ever did, but usually more than this....People train a lot these days:)
I am trying out new leaders at the moment and running the 3 youngsters as much as possible. There are some prospects, but no one have the talent for reacting instantly to comands in whatever direction I want to go, like Ravn. He is 6 years now...I dread the day he is not there. He is now expecting his first offspring with Sikpok, due in beginning of april:) Sikpok is confirmed pregnant.

I have recently bought a video camera,since I find filming fun. A Canon Legria HF R16 and also got upgraded with tripods. The Gorillagrip tripod is funny and kan be stuck to many things, also the sled. But my computer harddisk was almost full recently, even before I started filming with new camera or using raw files:( Trying to tidy up in all the pics...and using external hard drives. I plan to film and take pics at VM at Hamar- since there were no racing for me.
I have put out some new albums at the Gallery page.








---
7/3 My dear Nayak is due for operation end of march. And the prognosis to become a sled dog again was said to be good:) We have been waiting to get apointment with a spescialist and the judgement was that her injuried bones are stabile- so there is no need for inserting a metalpiece to stiffen up the hock like they originally suggested could be needed. But her problem is a main tendant that is dislocated since the tissue that should hold it in place are injuried. So the operation is for getting this tendant back in place. Laying like now it might snap so I dont let her loose in the yard any more or try running her. She is so crazy when she cannot run so its hard....
I took her out with a team once- she was sooo happy and ran like the wind, but limped afterwards so we did not dare to try any more. We are counting days and cross our fingers and toes...





---
27/1
Cheque out Tore Hunskårs new webpage Nordfjella Sledehund Kennel ! He is at the moment the leading siberian racer in Norway.

---
27/1-2011
Not much big news from NLC. We got a trail at the fields couple of weeks ago. 2 days with plus weather made everything quite hard and kennel icy but good to be able to train from home again. Anna and her two sibes are staying here for the winter. Dogs had little training last month, both due to kennelcough and lazynes. But we hope to get them in better shape for some nice runs rest of season. Marita Pettersen visited, and ran a siberian team for the first time (she used to have alaskans) Also nice to see Kachym and Katerina at these longitude:)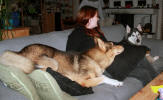 ---
27/1
Jana Lovette Henichova and Rodney visited and I got a bunch of Manmat harnesses and collars to try.
The collars with woven reflex in it are very nice, I have one from before. The dogs look fancy now:) Harnesses are much improved since last I tried a Manmat, this model are lightweight, padded and with narrover neckcollar. And with pretty webbing also with reflecting parts.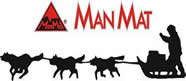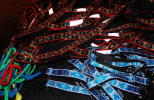 ---
31/12 Happy new year all! On four and two legs...

---
9/12 It has been cold temps between 12-20 - celcius for weeks now. Not a lot of snow and still no anchorhold, but sure wintery! And very beautiful when lanscape are covered in frostroses:) Got some nice shots of the gang of 3.
Tvilling went to Dogs4All internasjonal dog show with Hanne...Even if she is my most moderatly buildt dog, she did stick out in the company of showdogs as racy. So guess we should be happy with a red ribbon after all! What is better, is that she had some tries in lead now and seems very focused and forwarded on the task:) All and all Tvilling has developed in a nice direction in many ways.






---
6/12 Since I fear the winter roads and driving with dogtrailer I have bought brand new spiketires for it, in place before going to NSHKs camp at Syningen...Even went out on the motorway evening before departure since we have been delayed many a time because of tire-trouble on trailer...
Oh well, setting out at 9 05 (record early for Ronny and me) we only got a few kmtrs out before we heard strange sounds and a cloud of sparks and a tire jumping out on a field could be seen. Two tires were off at the same side....We waited allmost 3 hours for NAF since I wanted to know if this was my fault or I got the wrong bolts at Sharif. Turned out it was me trusting the electric bolttightener too much that was the fault...Moral is: allways use the manual tightener for closing!!!! I sure learned that now. It ended well after all, the loose tires did not harm anyone, the trailer did not brake and we took off quite delayed with the old tires. Took wrong roads many a times, was stopped once by UP, and arrived at 20 30 in GOL.
Rest of weekend was very nice with cold sunny weather. I made a video from the weekend, you can see it here I also put out a Gallerypage. Mostly portraits since the Eos is not so handy to bring on the sled:)








Portraits are Jeni/ Sepps s kids Gihli and Goshe
---
2/12 New girl on the kennel is Ulveheias Ulva. As Ulveheia kennel was closing down, I went with Svein and Irene to have a look since two NLC `s, Bjørne Whity and Bjørne Brea (Kvikk x Vargteams Crazy) is behind many of their dogs. Since Nayak is out, I see the need of a fast frontrunner and Ulveheia has been selecting for open class sprint. Had to decide fast since many people was interested, so Ulva went home with me. She is mostly zero/igloo pak lineage and Brea is her grandma. Quite small and moderatly build with a lot of attitude. Exept for the ears, she don`t stick out around here:) She compete with Haidi about ugliest voice on the block:) But since she has settled down fine, I only hear it wen its training time.




---
22/11 Winter has arrived- record early! First sledrun at 13 november. Of course no anchorhold, but still- first run on sled last year was 4th of december. I run 2 x 6 dog teams so training takes time and distance are limited.
Nayaks leg are a bit wiggely. Discovered that the large tendon on front side of hock is not normal. It must have been partly broken or overly stretched during the accident. This is her main problem right now. I am unsure how this will end. Have ordered a Back-on-track- hock support, maybe she can run short runs in harness then. But she runs like the wind playing with the pups, is up and down the steps to 2. floor again and also jump into my bed (high one) and sleep there like before the injury:) She have started to sleep in the dogyard when I am gone-but I don`t think she appreciate it:)
Funny thing is that after having her pups and growing new coat, Nayak suddenly got waves in her neck. Myrull is wavy and also his brother Silver has this loong, wavy ruff:) Don`t know where this came from!
Kaylo, who had problems with tense upper-thigh (gracilis) muscles that made him only pace last year, is back to trotting and galloping after stretching and massage. Crazier and stronger than ever:) At age soon 6 he has started to bite both lines and peoples butts!
Today we visited friends in Rakkestad with 3 of this years pups, they looked mighty fine.








---
10/11 Finally got to harnessbrake my 3 puppies, Znoke was as expected the most energetic one. Will be exiting to see how they develope. Most of the pups from this years litters are harnessbroken now and seems eager and happy to work. Here are som recent pics of the pups








---
1/11 Finally, Nayaks pressure wound has closed, after almost 3 months! Hanne was almost as happy as me, as it have taken a lot of time, money and frustrations...Amputation was an option for a while. Her progress walking with less and less limping is steady, but still we need one last cheque with surgeon to rule metalsupport in or out. I hope we can make it without operation...
One last rigrace last weekend too, NSHK and NAMK had a race at Mangen wich was very soscial. Close race between the 8-dog teams! Track was steadily up one way and downhill back, Ravn had big trouble keeping up the pace so had to brake for him this time.
Results here
Haidi, Tamsin/Iverdaughter is developing really nice. From looking not so impressive as small , she is now very nicely buildt and her overbite has decreased to just a tiny one. Looks like her bite will be next to normal at the moment! Soon time to harness my 3 pups, and if Haidi do fine in harness I will keep her myself.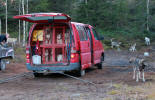 ---
28/10 Amount of training is moderate these days. I think I will never get competitive unless I move. And to move is some big step for me due to working conditions etc. .And I just do not have the inspiration to all the travelling in order to train enough distances anymore (not that I ever did it to full extent). I do not have enough will power to get out training when weather is extremely lousy and pouring rain makes everything disgusting either.. No good raceteam comes out of laziness.---
Sprintracing was never an option either, but since trainingareas are limited, that is what I should aim for actually. We will see, hopefully there will be some middle distance races this winter. I should have a descent 8-dog team (12 in training all and all)

Anna just left for Sweden after som days visiting, and we have been walking with Nayak and her dogs and she accompanied me on rigtraining. Pictures from a nice, moonlight late run here. I expect Nayaks wound to be closed in a few days now.

To my dissapointment, the hounds from hell-team with Silenoz of Dimmu Borgir was not used in the Abrahadabra-booklet after all (only wolfs) but picture will be used in some other occation. But at the consert in Oslo, I found this t-shirt with Tvilling and Ravn!!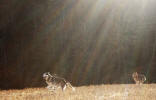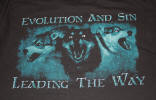 ---
12/10 Another rigrace 9/10 - on Skjelbreia with flat forestroads this time Even with faster members at home (River and Tusse) they had a good run
Lot of kids helping out at the turning point:) Good soscialization for the dogs as allways these rigraces.
Results here
Changed Nayaks bandage today- small wound has closed, big one is quite small now- so we se an end to it very soon!
---
6/10 Rigrace again- 41 teams this time ploughing through the puddles. Cooler weather and my team went 9 minutes faster on the 10km than first time. Ravn and Graabein in lead, Dingo, Skarv, Tannik, Tvilling, Sikpok and Kaylo was running this time. Since I took pictures first, we got no passing training but ran all alone. But do not have problems with it anyway, but good for the younger dogs that did not meet other teams much yet since I trained mostly alone from hom last winter. Sosciable evening as usual for people and dogs.
Results here.
Gallery with pics from rigrace.
River has had stitches for 2 weeks, what a clever boy who did not remove them himself:) He must wait a little bit more before running in team but he kept his toe intact! It looked really ugly. Its good when the dogs are used to some indoor life, makes it easier when things like this happens and they are not supposed to have wet feet...
I am buying a large, welded cage to have permanent inside in the kitche now, same type I have been borrowing from Lena Haugen (thax a lot to Lena!). Out goes the furniture only chairs left and top of cage as table. Doggyhouse??? ehem






---
27/9 I have been missing out Swedish SH spescialty (had entered 4 dogs but it got too stressful for me to get going this time) and yearly huskyclub fallcamp and seminar in Hakadal I missed due to workweekend. 3 events I usually look forward to in the fall. I entered one show last year and so far none this year. The few shows with judges one can show for, I miss out on the entrancedates anyway.

Just changed Nayaks bandage again today, now its really closing fast. About time after all this weeks...I can see an end to it. When it is closed we will go for swim training to regain muscle. She have allreaddy got some muscle back in leg after being only bones and skin for weeks and weeks. Scary how fast muscle dissapear in limbs not used.
A week ago River split a pad rto the bottom during training and have been stitched up. He has been living inside for some days and are a really good boy, but is now thrown outside since Nayak is in heat and its dry weather also. I have surely used some meters of bandage this summer and some money on wound dressings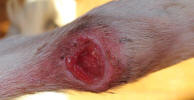 I have now 6 females in heat (iao all of them) and I dont train them much then since it means I have to bring dogboxtrailer to haul them. Its a hassle to get the cart on top and down 4 times when I train alone. Usually I get the 12 dogs in car and have the cart on a small trailer. Of course one wish for possibility to train from home everytime fall arrives.
And as usually, the young boyz are idiots(and sometimes the older too) and one feel like castrating them with bare hands sometimes:)
But good to get finished with all females at once.
---
27/9 Haidi has spent the weekend with a family and behaved very well! She is very contactseeking and sweet so this means it would make things easier when she goes to a new home. Right now she looks really nice and wellbuildt too. If it was not for the overbite, I would have kept her. But if she DID not have that bite, she would have been in another home anyway as young
---
19/9 I was planning to go away with the lavvu and all dogs this weekend, but since there had been graveled with sharp rocks all over the places planned to go, there were training at Gardemoen instead Together with the same gang as yesterday + Hanne. A bit hot but a nice day.
Pictures in the Gallery
Afterwards Hanne and I cleaned Nayaks wound since she had bitten a hole in bandage (it itches now that it grows good!) and we both were very happy to see that it finally decreases fast and look much better. Picture on news on 18 is when it was at it worst, this one is from today.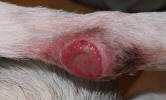 ---
18/9 Rigracingtime- this time at the area I usually train. Wet, humid and warm...longer and heavier trail than usually on rigraces but good training. Brought the pups for their first experience of being chained in noisy, hectic environment. I ran Ravm, Graabein, River, Sikpok, Tusse, Dingo, Tvilling, Tannik and Tamsin, Svein borrowed Kaylo.
We also train with other teams sometimes, witch is allways nice. Fall is here! Not a depressing time for dogmushers....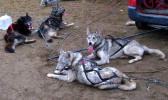 ---
18/9 Last two weeks things are heading in positive direction for Nayak. Her pressure wound finally covered up enough for her to feel comfortable using her injuried leg again. Its been 9 weeks now and normally she should have used the leg much more, but the ugly wound down to the knuckle has prevented her. Progress is steaddy now though The cheque up last week with a surgeon at Vetrinærhøyskolen showed that the injuried area is stabile so far. These two weeks she don`t need to be drugged for cleaning and changing bandages anymore. I am very happy. As you allreaddy have figured out, I adore that dog. But such an incident is difficult ...the thought of being selfish and put an animal through suffering because it feels unbearable to let them go. It gives me a lump in the stomach when I se her beautiful face looking out of the window when I load the other dogs for training.... But all and all animals have the ability to make the best out of life and Nayak seems mostly happy.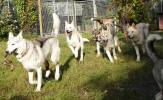 ---
18/9 Puppies are growing like weed. I have met several of them lately. Seems that they are doing well in their homes, and it is not so long now before we can harness them. My pups are doing fine too. Myrull looking funny with curly coat (my first curly SH, but I have seen some around) Znoke is ekstremly agile, energetic, noisy and a whirlwind. Haidi has developed nicely buildwise and now look much better buildt than as small. She is coming into teethchanging now, so interesting to see how her bite will develope. She is a friendly, wiggely girl (impossible to take stackphotos of her)














Upper left: Myrull (and Ice behind), Znoke, Haidi, Haidi and Znoke, Goofy, Ice, Tucker, Racer, Gihli and Goshe, Zima, group of my pups, Ice and Racer
---
31/8 Nayak and I send a big High Five to the very kind Rizzi-Anzelini family on Alpen Hotel Corona in the Dolomites, for sponsoring another Nay-La-Chee dog, this time Nayak (River and Tvilling are adopted!) You guys are soooo sweet!
And also to my veterinary sister Hanne who make it possible for me to keep it up with Nayak. She have used quite some time with Nayaks leg.


---
30/8 Finally team Nay-La-Chee got going with the fall training too. Ronny and I was out with the dogs in harness for the first time since spring. Once the first run is done its easier to get going. But at this time a year, one allways wish it was possible to train from home...
As expected Nayak was quite stressed and upset when the others were loaded. I knew this was going to be a hard part. But if I go back inside after the others are in the car and quiet, and I sit there for a while she calm down again so guess thats how we gonna do it.
I have 12 dogs in training this fall, divided into two 6 dog teams and the Dyck cart. Those are Ravm River, Sikpok, Kaylo, Graabein, Skarv, Tamsin, Chasey, Dingo, Tusse, Tvilling and Tannik. Jeni is still with Svein and Irene, but I might have to take her back since Nayak is out and Tesslin is placed in Rakkestad. Meanwhile Tusse and Tamsin is trying out lead position some more, and some others will be tried too.
---
30/8 This weekend we had a dog/peopleparty when Jana Henychova from Tchekkia and Arnt Jensen From Alta met here (I live near the airport) so Jana could get pup Arnhild. Arnt have Ivers sister Luna and we have not met since he picked her up 12 years ago except on Facebook that is:) Also Hans Olav S with family from Stavanger turned up seeking shelter from the pouring rain in Oslo. Quite funny, my very few puppybuyers that have the same musictaste as I (metall!!!!), one from further north of Norway, one from as south as you can get, turning up here at the same time:) Nice. Johanne S and her puppy Sapian also showed up so all and all it was a soscial saturday for both people and dogs. Nayak were so kind to the stranger puppies, she shared her toys even:) Good girl!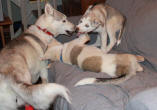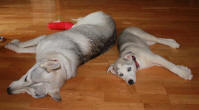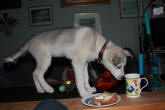 ---
28/8
It`s been 8 weeks since
Nayaks accident
. We have found our routine living together 24/7. Status right now is that the pressure wound is the biggest problem, so we stopped using the rail a bit earlier than planned. Its hard to make the wound-dressing stay on the wound since nothing can be tightened very much and the rail and movement makes everything slide downwards. As the wound was getting better, a dressing slid down and teared of the flesh down to the bone and we are not back to that stage before now.
But Nayak seems mostly happy, and are off painkillers. As soon as wound is closing more, we will take a new x-ray to see how things look. Her fractures are not the problem but the bone without tendants. But while I thought only alternatives were operation or put her down, I know now there is a possibility that scartissue etc stabilize the leg so we dont need metal and screws in there.
Hopefully she will soon be able to start walk on the leg again and we will start with swimming to regain her muscles.
She is a darling dog for me and make me smile everyday.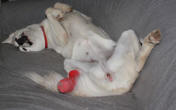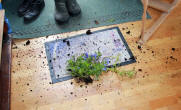 Here`s an album about Nayak
---
26/8 This summer i finally finished the dogyardbuilding! Unbelivable..Seeems I have been building dogyards for 20 years... .I have reduced number of dogs lately and made some new improvements that makes things more practical. I moved the puppypens near the house since I had such big horde of puppies this summer, and that was much nicer than having them far away. I also enclosed another part of my garden so that I have a fence outside my living room with a new gate to the big pen inside that enclosure. It was meant for easy access to puppypen/ bringing the pups inside the house, but also got an unexpected use when Nayak got injuried.
Besides its easy to take the dogs inside just letting them loose in the big pen and open the gate.
I changed some old fenceparts and got a number of new doghouses so now things are on track. Only thing missing is to have light in the area.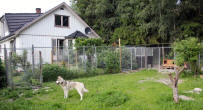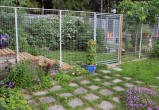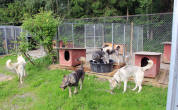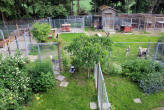 ---
11/7 I am quite devastated right now. My most valued dog, fastest, upcoming mainleader and spoiled housedog, beautiful Nayak had a terrible and weired accident friday. She is a climber and usually lives in a roofed pen, but have been spending days in the larger pens with the puppies without problems. Until she found out she would get to the window that leads into my house and climbed a gate and her paw got stuck in the gap between gate and gateframe as she launched over the top. It caught her hanging on the other side with hock bent over the gate in a very bad angle and it broke two bones and ripped tendants in the hock. She has a cast on the leg and will most likely have to have to undergo expensive operations and aftercare to function in daily life. If she can ever run in harness again it will be a wonder:( She is happy to be a housedog again after the motherhood and sounds like a pirate with a wooden leg. This was really depressing...Her very promising sleddog-brother Dingo allreaddy tore a muscle from jumping and landing akward last summer and I dont know how this will affect him in the future.






Nayaks two pups Myrull and Znoke are some smart, enthusiastic, energic pups that makes me crazy bathing away the water in every kind of waterpen...
---
28/6 Oh dear-time fly! Again... No energy to update here for a while exept for the Gallerypages.- I finally got a new and more advanced camera than the little Ixus, Canon Eos 550D. I did not have time to go thorougly through the details of it yet- but take a lot of pics and deleate most:)
Also had some other great equipment improvements during fall/ winter, a Lupine Wilma headlight and a Skunksled, both were very welcomed indeed. The Skunksled were supposed to be a race sled, but its tempting to use it since everything else I have seemed so stiff and difficult to steer once I got used to it! Heres a video from this winter and the new sled
Guess Eveline K is right in her observation, people who are active on Facebook, get kind of lazy to update homepages!
But some news under here from that period of time, for those NOT on Facebook. I will try to update more regularly again.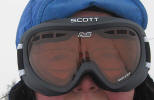 ---
30/5 NSHK Spescialty: As last year I was show secretary and could not show myself, but had a nice time at Frya Leir anyhow. Me and Anne Kari picked up judge Mary Davidson at Oslo airport.. Worse when we left her there on the way home, got sms that she was on the wrong airport! Turned out she got ticket back from a different and far away location for the return but luckily got home on stand-by!
Only Nay-La-Chees represented were Tokpok Lilletusse and Tella from Trondheim. They did well, Tella was 1 juniorbitch with CK, Tusse nr 2 in the class. Congrats to the winners!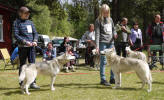 ---
April 20 Puppies, puppies puppies! As you probably have seen elswhere on this pages, there were a lively spring and forsummer here. And I did not expect much pups at all after watching Sepp looking totally uninterested in females in heat. The owners claim he is bashful and maybe he is! Jenis litter of 8 was a *gay-test* that lasted for a few seconds, when Nayak was on the 16-17 day without him being interested. She was following him backwards almost, with tail bent for a week....He finally bred her for a couple of minutes at 21 day. But there were 14 very nice puppies after all. Tamsin did not want nothing to do with the chosen male, but got pups with old Iver, who was second choise. There might be one of her pups available since she has a quite large overbite.
Exept for one, all pups have found nice homes with people I know that mostly have dogs from me before. I kept two of Nayaks, Myrull and Znoke and have one female on breedingterm, Gihli, and a swop-pup male from Jenis litter It has been a busy period, with loads of people visiting the pups, they had different visitors almost every day many times a day. It has been great fun with them, espescially after they all moved together with the two mothers. No problem to sit for hours and observe them (and cuddle of course although 14 pups have a lot of sharp teeth!
Nayak have been an impressive mum for the whole bunch! Jeni was more tired of them. Jeni has gone back to Svein and Irenes togehter with two pups, they will borrow her as leader in their new little team, til I might need her myself.








---
April An entertaining afternoon when photographer Bjørn Ivar and Silenoz (Sven Atle Kopperud) from Dimmu Borgir was here to shoot images for the next Dimmu Borgir album. Ravn, Skarv, River, Tvilling, Tannik and Graabein will appear as Hounds from Hell, which they of course had natural talents for at hookup-time:) Since I opposed to most dogmushers, love Dimmu B music, I now even more than usually look forward to their next album...due in september.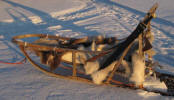 ---
Season 2009/2010:
It was a good one for me, even if I did not race. For the first time since I moved here, we had plenty snow on the fields from 22 desember til end of march! Not ONE single day of + degrees or rain for that period!
As usual, when november and december comes with icy roads, and I do have a problem getting longer distances on the dogs without travelling,, inspiration drops... I cannot train all dogs in front of the Dyck cart and there are nowhere within 50 kmtrs radius where I can train all in front of wheicle either since it was put up a new roadblock at Holter. To turn around a team of 14 in front of car alone on a narrow road is not an option for me.
Anyhow it was wonderful (and economic) with a whole winter driving sled from home. One could get used to it, just hooking up outside the dogyard...The distances we had open (my neighbour and I) is not so long, but you can take loops and its quite much up and downhill even if its fields. Unfortunatly we had only one day of hard crust. Had a number of people joining on training small teams on the fields and also some passengers once in a while!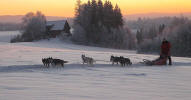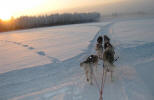 ---

21/12 09 Another year is soon over. We had some real good old cold winter weather lately, but no huge snowfalls. But possible to train with sled. We changed our plans for the winter a while ago and there will probably not be much racing after all. Maybe some late season races. I have placed some dogs and have at the moment more yearling and pups (9) than older dogs in training (8) We will enjoy winter without stress, and hopefully get some good training on different things with the youngsters,.
Skarv was at his 3. and last chiropractic treatment from G Wiik couple of weeks ago and his pelvis/back is now declared back to normal. He has completely changed gate from choppy and cowhooked to more floating movements, which make me believe he had this problem since puppyhood. ( he limped severly for a few days as youngster) I thought it was his build that made those movements.... He has so much energy and really enjoys to get going in the team again.
Katja Petrell, dogfysio/ masseur spent some hours here again and went over some of the dogs. Jeni has improved a lot, Dingo is also back in training, he still has some swelling in the tibia-area but it did not feel too bad she said. Kaylo had some real tense, stiff muscles in his thies, and need regular massage. He has changed gate from decent trot and gallop to a stiff choppy pace. Comparing dogs movements on videos can be useful, and I try to understand more of the mechanics that give injuries and problems. Now we gonna be busy massaging and stretching for a while...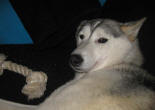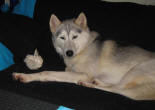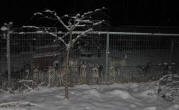 hmm...no doubt who is taking Noias place... Nayak. Here with Noias toy and cromes from dried bread she stole from the counter

---
5/12-09 My very spescial dog friend Noia ( Nuch Nay-La-Chee`s Cool Running Kenoia), the *queen* of my kennel, left us today in her 15. year. Time was right, she did not seem to have much pleasure out of life anymore . Luckily , with help of Hanne, she was able to pass over sleeping in the couch like normally, not noticing anything unusual. RIP Noia, you will be missed! It will be a while before I stop looking for that familiar face around the corner...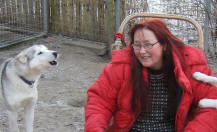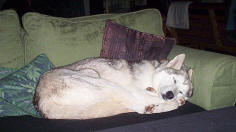 ---
23/11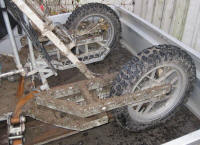 November is on with its dark, wet and muddy days.At least the ice melted again so its possible to train with the cart.. Last season we were on sled 1. desember, so there is still hope.
Been a while since update here, I have been busy with a new website for Snørokk. Visit it here!

We have entered a couple of rigraces, Few participants opposed to the years before
Results here and here
Rigrace team was Ravn, Graabein, Nayak, Tesslin, Tusse, Dingo, River and Sikpok

A visit to chiropracthor G Wiik sorted out the problems of my 3 injuried dogs:
Skarv have had for a while (don`t know english terminology of these things) a locked pelvis. He is allreaddy much better after 2 treatments and will be completly well. Rough play(his spescialty) have probably caused it.
Jeni have had a injuried front leg which destroyed her racecareer for two season. She did not limp yet this year, but turned out her leg is very stiff compared to normal. She has a biceps tendenitis, the most common injury in front of sled dogs...Daily massage and stretching will most likely fix her. She is in training with a shoulderwarmer on, and we run slow in downhills)
The worst case is Dingo, my best yearling ever. He have the habit of doing high kangaroojumps at feeding time and in june he landed akward on one hind leg which left him screaming like a pig. But since he stopped limping quite fast I was relieved that it went ok. But as training got harder he stiffened up in this side. He has torne a muscle in his tibia according to Geir. This can cause scartissue and problems in his back that can affect him later.
So now he is out of training and gets massage every 2. day:( I really cross my fingers for him.

Tvilling and Tannik, 6,5 months had their first tries in harness, and as expected they worked good and behaved bad!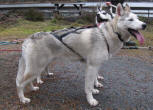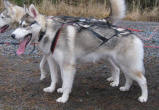 Noia turned 14 in october. She is mostly sleeping and looking quite old now.She is constantly shedding, so I had to take her inside yesterday despite all the hair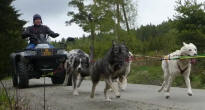 Above is JJ Yana, who lives with Ingvild in Folldal. She reports that Yana is looking promising in harness so far and is an easy grl to have around. But she she is a talker like many relatives...

A while ago we trained in Rakkestad together with Frank, Nina, Lars, Camilla (and Nora) Kjell and a glimps of Jan
I made a film that have been out for a while, but link here We finally got to try the big lavvo, the lavvostove and I tried my campingbed
and it all worked very well. And its NICE to have a lot of space inside! (we get mobbed or the 16 personlavvo)