About Nay-La-Chee kennel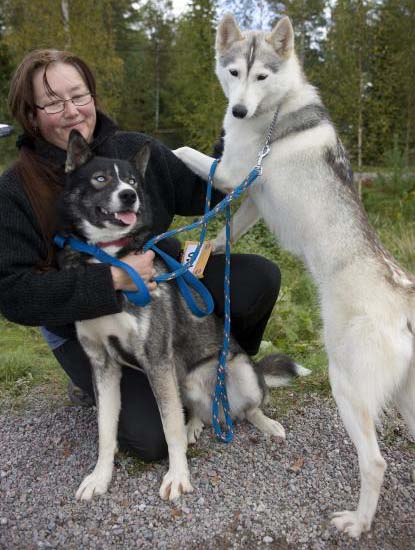 I (Rikke Cathrine Bergendahl) got my first Siberian when I was 14, after having seen picture of such a dog in a book. ¬ijansuon Sukujak (called Naya) came from Finland in 1974, after my mother convinced my father to let me have one (He had a setter that was bitten by a husky and didn`t want that kind of creature in the house.) Naya came and charmed both him and me, and the fascination for this breed has stayed ever since
I come from a doggy family, my mother Grethe is well known in Wire-Fox Terriers and is also a judge for many breeds. My father had english setters and my sister Hanne is into Fox Terriers and Cavalier Spaniels and is a veterinarian. .
Today Siberians and dogmushing its a lifestyle (Incurable?) Has kept a limited number of dogs all this years, before the number increased with the interest of racing in the 90.ths.
The kennelname Nay-La-Chee ( nai l'ashi) was registered in 1976 and was inspired from Naya my first dog, Laika, my neighbours Siberian Husky, the first Sib knew, and Cheewan (1), the first pup to be born in my car
Even if I didn`t start racing myself before in 91-92, I have allways tried to stay informed about the breed/ sleddogworld. In 1980-81 I spent a year in Alaska, mainly at Alaskan of Anadyr Kennels. I have worked with the Siberian Husky Clubs magazine Huskybladet in the 70ties and has since 91 until may 99.. I`m also active in my local Sled-dog Club. I`ve been doing an amount of writing in different dog-magazines and also loves to take pictures, mainly of Siberians. So I have a large collection of my own and other peoples dogs….I also like to paint and draw dogs, but dosn`t have the time to practice such hobbies these days.
Today I have 20 dogs(+-) These are regularly worked and I am competing in Middle-Distance Races. ( In Norway, the distances are manily 2 x 45-50 kmtrs, sometimes 100 km a day.)

I`ve competed in the 6-8 dog-class up to 2003, now it will be mainly 8 or Open
Some of the dogs are also shown, but its the racing that is my main interest. Temprament and workability is therefor first priority, but the breeding-goal is also Siberians with good breed-type.
My dogs has done well at the NSHK Spesciality Show last years, with 2 BOBs and 3 BOS with 4 dogs.My dogs are usually in the winnerclasses with CK at this show. I also got Honourary Prize in the Breeders class several times One male, Konyak also won the Group at the largest Kennel Club Show in 96.

The dogs are out of wellknown american racingstrains like Anadyr, Igloo Pak, , Arctic Trail, Seppala.
Of the closer Scandinavian strains, you find Vargteam, Arctic Song, Unisak, Snowtrail, Vargevass a.o. I also have strains from well known german racingkennel of Alka-Shan, who has competed successfully in USA races. I keep a variety of different lines so my dogs has different type and size.
I eyecheque/gonioscope mybreeding stock, but since very few cheque their dogs in Norway and Sweden, I cant allways afford to cheque other peoples males I use for breeding.

I have "shocked" people here by importing a female of typical showlines, Now some years later, these lines havent contributed with anything I want to continue with so the kennel will stay mainly racingline-focused.

I have normally bred one-two litters a year lsince 95 and kept pups in most litters. The dogs live in small groups in pens at night , but they all run together in a larger pen every day to play and soscialize.
The kennel is situated 30 kmtrs north of Oslo, 30 minutes drive from Oslo Main Airport.
Pictures of the dogs and information about them can be seen in My Dogs