NAY-LA-CHEE` S COOL RASCAL RAVN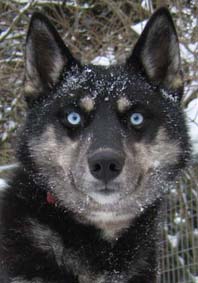 Born

november 04


Jet black

blue

eyes 20 kgs 57,5 cm.

Small, strong,not so impressivly buildt male with super coat.
He is the brain of my team.. He ran almost all trainingruns and races in lead, so sometimes he get a bit fed up and pee in uphills. He allways react instantly to comands and usually brings me where I want to go. He passes everything without problems.
He lacks top speed but is quite energetic..Allways eat and drink, but in a normal speed. Never injuried.

Ravn is a very smart, independent dog Quite restless and busy, he is not the kind who has time for cuddling for many seconds at the time.
Insecure and quite cocky with the other males in the kennel,

A vocal guy like many relatives and a very spescial personality indeed.
His diabolic looking face really catch attention.!



Showresults
1JK Evertsberg SH Spesciality 05 Judge Simon Luxmoore
1AK NPHK Spesciality 07 judge: Terje Lindstrøm

Racing
06/07 Hamar TK Påskeløp 12km
07/08 Shamdraget 2 x 45km 6 dog
NSHK race 2 x 50km 8 dog
Polardistans 160km 6 dog
08/09 Vikerfjell 70km 8 dog
Hallingen 80km 8 dog
NSHK 50 + 30 8-dog
Polardistans 160 6-dogs

Eyes
Eyechequed/ gonioscoped clear 3/6 08 by E Bjerkås

Offspring
7 pups with NLCs Troykaz Sikpok 2011
7 pups with NLC Vyla Nayak 2012