Nay-La-Chee`s Iver Glipp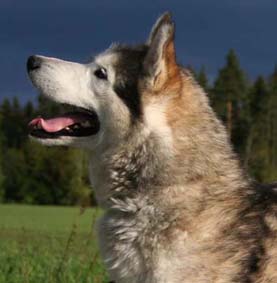 Male born 98 Grey/white Brown eyes 60 cm 23 kg

He has been my main leader, and my best dog for some years.
A steady worker who kept up the speed if possible
Very soscial, non-conflict temprament, and a quiet and pleasent dog in the yard. BUT he has one strange habit besides the linechewing: See diggingpics below......
He seems to throw his quiet temperament to his offspring

Season 05/06 Iver seemed to not be his old self this season... He could not keep up the speed and work hard like he allways did before. It turned out he has muscular problems in his loin part of the back and he started with chiropratic treatment and daily massage and also a new harness which doesnt stress the croup.
He is much better now but treatment started too late and he was out for the season.This probably came from his bad habit of backing off and jerk really hard when waiting to go in the tream Since he is 8 years now I doubt if he can make another raceseason but we will see how things turn out next fall.

Season 07/08 Ivers back is much better and he is now trained like normal and he seems to enjoy it again. Time will tell if he will make any more races, he is 10 spring08. But its nice to see him in a very happy mood anyway.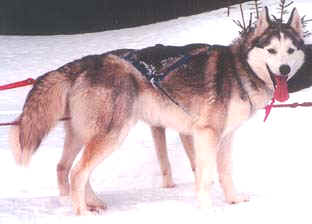 Eyes
He is eyechequed clear Gonioscope: a bit narrow iridocorneal angles.by E Bjerkåps 99-01
Eyechequed clear 28/3 01 by Bjerkås

Racing
2000
Vikerfjelløpet 1 x 28 km
Svensk Rasmesterskap for SH 2 x 34 km
Nordic Open, Åsarna 2 x 50 km
Østre Æraløpet Åpent løp 2 x 30 km
NSHK Vintersamling 2 x 5o km
2001
Vikerfjelløpet 15 km x 1 6-spann
Nordic Open 15 km x 3 6-spann
Østre Æra 30 km x 2 6-spann
03
Vikerfjell 8 dog 28 km
NSHK Open class 2 x 50km
05
NSHK race 2 x 18km 8 dog
Huskydraget 2 x 30 km open
Nybusjøen Trail 1 x 30km
Showresults
Bite is not correct, that is the reason why he isnt being showed much.
1AK.and HP in studclass NSHK Spescialty 2003 Judge Kari Granaas Hansen
1VET 1VETK HP NSHK Spescialty 08 Judge Karsten Grønås

Offspring
6 pups with Nay-La-Chee`s Gråtass Sina owned by Berntsen, Lillehammer.
Cry Wolf litter 7 pups with Nay-La-Chee`s Svarte Ildico desember 00
Djerve litter 8 pups with Arctic Songs Djerva april 02
7 pups with Nay-La-Chee`s Gråtass Sina june 02
Aussi litter 6 pup saccidental breeding with Nordviks Road to Glory 02
No prefix 6 pups with Nay-La-Chee`s Narrow Trail Yin 03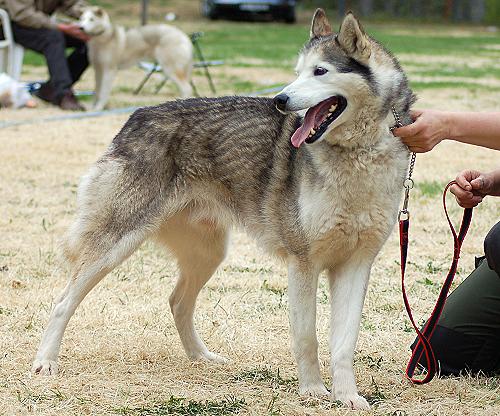 Ivers digging habit.........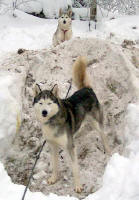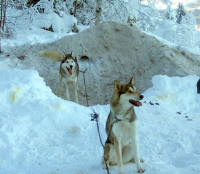 He never does this at home, but when waiting to go in the team or when on a picked line he starts digging.He has an extra effective diggingtecniqe.....
These pics is day 1 and day 2 from a trip we were on.The year before I did the mistake of chaining him in the middle of the picket line...Beside the dogs, the snow were bottomless, so when we were feeding or not to speak of when dogs were to be put in the car for the night (after we had some red wine) it was a hazzle to get passed his "animal trap"....
Parents

GrandParents

G-GrandParents

G-G-GParents

Alka-shan Fudge Of Sno-fire
(Sire)

Alka-shans Callico

Hercules Of Sepp-alta

Ash Of Markovo

Alma Of Sepp-alta

Alka-shan`s Polar Penny

Baika Of Koneativ

Yolly Yopsilon Of Alka-shan

Sno-fire`s Banner Of Alka Shan

Alka-shan Lucky Laser

Kailas Mr Pepper

Ulenka Of Alka-shan

Sitka Of Sno-fire

Takima Off Sepp-alta

Micaela Of Woodside

Nay-la-chee`s Cool Running Kenoia
(Dam)

S(polar)ch Unisaks Jet Bandit

Igloo Pak`s Snow Bandit

Igloo Pak`s Clyde

Igloo Pak`s Ann

Snowtrails Linda

Snowtrails Frosty

Snowtrails Annie

Avatac`s Brave Ulveline

Vargteams Varg

Speedos El Zordo

Tatra

Vargteams Delta

Nord Av Seppalaska

Sandra



Coefficient of Inbreeding of Nay-la-chee`s Iver Glipp is 0%.